Luxury groups struggle to find artisans
May 25 - While many admired the elegance of the dress in which Kate Middleton married Britain's Prince William last month, too few youngsters are interested in learning the skills required to make such garments.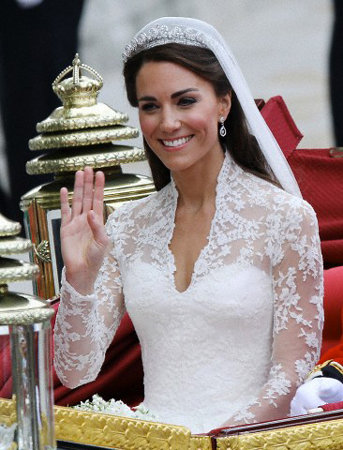 Kate Middleton wedding dress
Luxury goods sales have rebounded around the globe, boosted in particular by the ravenous appetite of China's new rich for classy handbags, fine jewelry and quality timepieces, but many brands struggle to keep up with demand for the lack of qualified artisans.
"Finding artisans and motivating the young generation for this type of work is a problem. Manual labor has been devalued by French society," said Elisabeth Ponsolle des Portes of French luxury lobby Comite Colbert.
"For example, it is very difficult to find furriers today or to motivate young people to learn this skill," she said.
Comite Colbert, which represents 75 French luxury houses, organizes visits to fashion or goldsmith ateliers in the hope of piquing young people's curiosity about the professions.
Upmarket British jeweler Theo Fennell said finding apprentices was a challenge. "You think there'd be a queue round the block to become apprentices, but there's not," creative director Fennell told the Reuters Global Luxury and Fashion Summit in London.
He said many young people were not willing to devote much time and energy acquiring the huge skill base while making less money than most of their friends.
"The idea of doing a great day's work, producing something really beautiful ... it's contrary to contemporary culture, the whole idea of instant fame and money without any effort," Fennell said.
PASS ON KNOWLEDGE
French lacemaker Sophie Hallette, which saw two of its lace motifs on Middleton's wedding dress, made in utmost secrecy by fashion house
Alexander McQueen
, started weaving lace in Caudry in Northern France in 1887 and attaches great importance to transmitting its art to the next generation.
"Each apprentice works in a team with an experienced artisan," said Maud Lescroart, who manages the family enterprise with her brother. "Training a lacemaker, who will be in charge of the Leavers loom, takes seven years," she said.
Sophie Hallette, which employs 200 people and hires about 20 new staff every year, works regularly for fashion houses such as
Valentino
, Christian
Dior
,
Givenchy
or Jean-Paul Gaultier.
Competitor and neighbor Solstiss, which also had one of its lace motifs on the royal wedding dress, said it was not easy to find young people willing to work on noisy 19th-century machines.
"They have to work long hours, and there are very busy times ahead of the fashion shows," marketing head Herve Protais said.
He said, however, that lacemakers, who earned up to 3,000 euros a month, enjoyed high prestige in Caudry, the cradle of French lacemaking. The industry suffered during the economic crisis and had to lay off staff but tried to retain its precious lacemakers.
The same holds true for the Swiss watch industry, where experienced watchmakers are in short supply.
Big player
Swatch Group
insisted on the importance of keeping qualified staff during the crisis and is looking to hire 1,000-1,500 people this year to boost production capacity.
Rival
Richemont
, owner of the
Cartier
brand, said it would add 800 jobs in production this year. "We accept that we will have to train people up for the jobs that we have. We expect that many of the people to be recruited may be new to the watch industry," spokesman Alan Grieve said.
Richemont trains about 65 watchmakers a year and brands like
Jaeger-LeCoultre
or
Vacheron Constantin
rely on experienced employees to train the young.
"We have 12 apprentices today, and the number will go up to 16 in two years," Vacheron Constantin Chief Executive Juan-Carlos Torres said, adding most of the newcomers would be hired after their apprenticeship.
But it takes more than a watchmaker to make a watch, and recruiting micro-mechanics, who make the watch components, can be even more difficult.
"Young people seem to turn their backs on these professions. If they disappear, however, the whole watchmaking industry will be affected," said Paul-
Andre
Hartmann, director of a specialist school in Switzerland's famous watchmaking center Le Locle.
According to figures published by the Convention Patronale de l'Industrie Horlogere Suisse, 318 watchmakers and associated professionals were trained in 2010.
By Silke Koltrowitz and Nathalie Olof-Ors
(Additional reporting by Mark Potter in London; Editing by Will Waterman)
© Thomson Reuters 2023 All rights reserved.