Luxury jewelers defy downturn
By David Brough
LONDON (Reuters Life!) - Hundreds of luxury jewelers defied the downturn and partied late into the night on Thursday 16 July in glitzy Park Lane at the 2009 UK Jewelry Awards in which avant-garde designer Shaun Leane won a top accolade.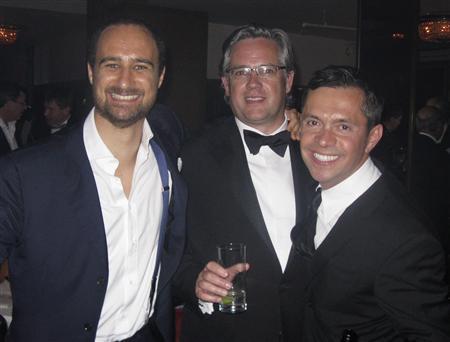 Leane, renowned for his darkly romantic catwalk jewelry, scooped the prestigious Jewelry Designer of the Year at the gala, one of the world's premier jewelry events, in the Great Room of the Grosvenor House Hotel.
"No one will deny the last 12 months have been a difficult time," Sarah Carpin, Editor of Retail Jeweller, Britain's number one jewelry trade magazine and an organizer of the event, told the exclusive gathering of retailers, designers and marketers.
"I hope tonight's awards will not have a 'party in the blitz' atmosphere," she said. "Retail analysts are saying that by this time next year we'll be seeing real signs of growth."
Leane, known for his daring catwalk creations in collaboration with fashion designer Alexander McQueen, beat off tough competition from other leading British jewelry designers Rodney Rayner, David Marshall, Alex Monroe and Tom Rucker.
Leane's work has been described by Sotheby's auction house as "antiques of the future."
Leane made an impact on the jewelry world recently when he unveiled his largest diamond piece to date with 'White Light', an intricately crafted 40.68 carat diamond brooch.
ITALIAN INSPIRATION
Italian jewelers and brands came out in force to the event, which held a special category dedicated to the best of Italian design, won by Alessio Boschi, underscoring the prestige of exclusive Italian-crafted jewelry creations.
"We're very pleased to have been nominated and to see Italian designs appreciated," said Mattia Cielo, whose designer Massimiliano Bonoli was one of the finalists.
Mattia Cielo's upmarket brand is distinctive for using the latest technology in combination with light and movement in materials such as amethyst and blue topaz.
Platinum jewelry also held center stage, with Britain's Simon Pure winning Platinum Bridal Collection of the Year.
James Courage, CEO of Platinum Guild International, which promotes platinum jewelry, said platinum was better protected from the downturn as the white metal is entrenched in the resilient bridal segment of the jewelry market.
"We have seen strong demand for platinum in our ranges," said guest Jayant Raniga from British-Asian retail jeweller PureJewels, located in the up-and-coming Green Street jewelry quarter of east London.
(Reporting by David Brough; editing by Paul Casciato)
© Thomson Reuters 2023 All rights reserved.