Luxury watch prices to tick higher in 2012
BASEL - Luxury watchmakers, whose costs have stabilised in recent months, are set to increase prices this year as concerns remain over raw material costs and Swiss franc volatility.
Luxury groups meeting at the world's biggest watch and jewels fair this week voiced concern that the recent respite in diamond and gold prices would not be enough to help the sector.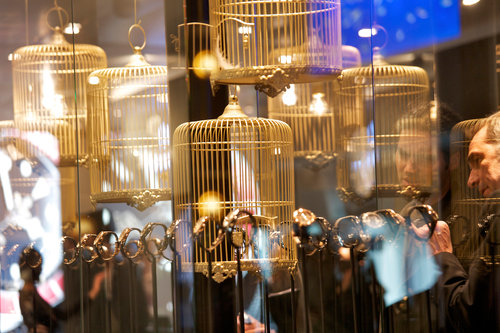 Impression from the Hall of Dreams at Baselworld 2012 - Photo: Baselworld
"We will surely increase our prices, yes. We try to limit the prices on the client but a price increase is expected, absolutely," Frédéric de Narp, president and chief executive of U.S. diamond miner and jeweler Harry Winston told Reuters.
"Prices of diamonds, in particular the very small ones used in watches, more than doubled over a very short period of time," he said.
Prices of 0.5-carat polished diamonds rose 36 percent in the first seven months of 2011 as investors fled financial markets. Prices then dropped in August and have stabilised this year, according to data compiled by diamond analyst Martin Rapaport.
"The good news is that gold and diamond prices have stabilised or have even fallen. But this does not exempt us from increasing prices, because the price average is high and there are negative impacts that must be dealt with through a further increase in prices this year," Francesco Trapani, head of French group LVMH's watch and jewels division, told Reuters.
Harry Winston said diamond prices could tick up again this year because of strong demand from mature and emerging countries. "Nearly 80 percent of Americans buy an engagement ring for their brides. The bridal market is growing in China, from a relatively low 30 percent today," de Narp said.
IRRATIONAL LOVE
Adding to input costs, concerns remain over the Swiss franc, the currency in which most watchmakers' production costs are denominated.
The Swiss National Bank has capped the franc at 1.20 per euro since September to halt a rapid surge in the currency, which flirted with parity against the euro in August and threatened to tip the country into recession.
"Everybody preferred 1.30 to 1.20, but I am happy that the Swiss franc is at this level now," Jean-Claude Biver, chairman of Hublot, one of the fastest-rising watch brands within LVMH, told Reuters.
"The exchange rate at 1.20 is artificial. We will certainly increase prices if the euro continues to weaken against the Swiss franc and if gold and diamonds continue to rise," he said.
Biver said he was confident luxury lovers would continue to buy expensive timepieces. "Price is not the first reason behind the purchase of a watch," he said.
Hublot, known for sporty designs and high-tech materials such as unscratchable gold, unveiled a swatch with a price tag of 5 million Swiss francs ($5.5 million).
Patek Philippe said raising prices was not the main concern for a watchmaker whose entry price is 10,000 euros ($13,000).
"For Patek, this is not really a goal to increase prices," chairman Thierry Stern told Reuters. "Patek is not only about big numbers. I also need to have young guy who is just 18 years old, just graduated, and will receive his first Patek." ($1 = 0.9083 Swiss franc = 0.7534 euro) (Additional reporting by Silke Koltrowitz; Editing by David Cowell and Dan Lalor)
© Thomson Reuters 2023 All rights reserved.