Major male fashion labels gather at Pitti Uomo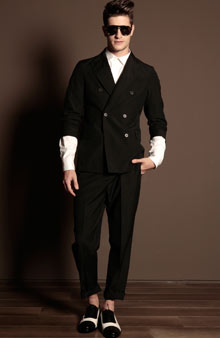 Trussardi
Pitti Uomo is on top form, with this year's edition witnessing the return of hugo Boss as well as the european launch of
Arrow
, part of the
Tommy Hilfiger
Group. Among the 37 French labels,
Veja
,
Façonnable
, Albert Arts, Commune de Paris 1871, Lotho and Twins For Peace will be either debuting or making a reappearance at the Florentine male fashion fair, taking place from January 11 to 14. "This tradeshow will be more dynamic and opened to the launch of new brands", said
Raffaello
Napoleone, Pitti Imagine's administrator.
The January fair, located at Fortezza da Basso, will gather 950 male labels (50 more than one year ago), with foreign brands consisting of one third of the total amount. Essential in terms of classic and formal fashion, the tradeshow will offer a wide range of denim, casual and sportswear, all of which have continuously been developed by organisers aiming to keep up with the evolution of brands. Launched last June, the My Factory Space serves as proof of this evolution by housing contemporary brands such as Levi's
Made&Crafted
, Commune de Paris 1871 and Salvation Nation. "Bread&Butter has taken a different path in the world of denim. Our goal, based on a classic and formal concept, has always been to be a platform to the key players in the male fashion industry, from craftsmen to manufacturers and designers", continued
Raffaello Napoleone
.
Pitti Uomo's 92nd edition, which will have
Trussardi
and
Gareth Pugh
as special guests, will be mainly celebrating the premiere of its virtual fair e-Pitti. The project's aim is to offer hundreds of brands the opportunity to continue the event online once the physical tradeshow is over, thus extending the experience by another 4 to 8 weeks. Access to the website will be free to those who visited the tradeshow. "A few years ago, we did a test with Second Life but it was too complicated. Network technology and the behaviour of visitors have both improved since then", Raffaello concluded. E-Pitti will soon be expanding into the children's fashion world with the online version of
Pitti Bimbo
.
Copyright © 2023 FashionNetwork.com All rights reserved.