Mannequins hit by discrimination - and loss of face
PARIS, Oct 4, 2009 (AFP) - As blue-eyed blondes increasingly hog the catwalks, discrimination is also at work in the weird and wonderful world of the fashion mannequin.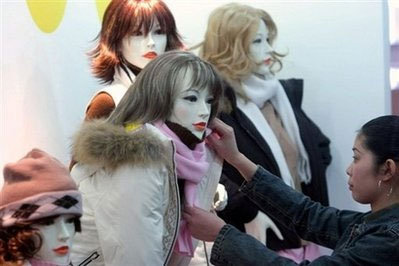 Photo: AFP/File/Str
"Black mannequins don't sell," said Marc Lacroix, a manager at one of the world's leading producers, Paris-based Cofrad which also owns Los Angeles firm Patina-V, a maker of ethnically diverse fashion mannequins.
"Black and Asian models have been doing fine for a long time in the US, and we have customers in Britain. But in France, Germany and Austria, forget it!" he said.
"The Anglo-Saxon world it seems is more open-minded than the old continent."
Mannequins come in all shapes, colours and sizes but always come apart -- just like jointed artists' models made of a head, body, legs and arms.
"We only sell headless limbless bodies to Saudi customers," he said. "Couture clients too often like them headless as they want potential buyers to focus first on the clothes."
"Asian customers," Lacroix added, "which often represent big global labels, prefer European-looking mannequins as they have a more universal appeal."
Mannequins, nowadays generally made in environmentally unfriendly fibre-glass, are relatively new in historical terms -- as are the top models they more than often mirror.
Initially a tool for a tailor or seamstress, dummies made of cane surfaced in the 18th century before being made of wire and later cardboard. But it was only in the 20th century that couture came up with the idea of using mannequins rather than live models to display clothes to wealthy women at private showings.
Their widespread use in shops and shop-windows followed in the 1950s and 1960s, when couture and ready-to-wear labels multiplied, and big-name top models such as Twiggy emerged.
-- Mannequins multiply sales fourfold --
----------------------------------------
"Mannequins are very important," said Helene Lafourcade, who heads visual merchandising for French department store giant Galeries Lafayette. It uses 15,000 mannequins across its network, including 5,000 alone in its big central Paris stores near the Garnier Opera house.
"They're not just objects you stand up in the store. They're static salespeople," said Lafourcade, who reckons mannequins multiply sales fourfold.
Mannequins are crafted by sculptors in a process every bit inspired by a catwalk show.
A manufacturer calls a modelling agency, organises a casting session and commissions the male or female model chosen to pose for a photographer. The sculptor uses the pictures to make a cast.
With an average life-span of three to four years, mannequins can cost anywhere from 150 euros to 1,500 euros (218 to 2,180 dollars) for the cream of the crop.
In the 1990s, said Franck Banchet, artistic manager for Paris department store Printemps, the trend was for hyper-realistic dummies.
"The Rolls Royce of the mannequins then were by Adel Rootstein in London, who used professional make-up artists and hairdressers to work on them."
When minimalism became the design statement of the day, mannequins too became streamlined, "their faces just an oval shape with a line for a nose and a line for a mouth," he said. "Top of the pops was a mannequin by Swiss firm Schlappi".
Couture king Yves Saint-Laurent's taste for such stylised faceless mannequins, often lacquered in white or black or gold, turned the tables on the trade.
"Most people nowadays use the cheaper stylised faceless mannequins," said Banchet.
In Paris to launch his new collection of mannequins called Madame, New York's Ralph Pucci said "you have to create mannequins that are relevant to the times."
"Mannequins are about change, about art, about sculpture," said Pucci, who has worked with avant-garde artists such as Andree Putman, Ruben Toledo, Kenny Scharf and Stephen Sprouse.
"As for body shapes, every time we try different sizes, it fails. It's not relevant. A mannequin has to have personality and has to sell the clothes."by Claire Rosemberg
Copyright © 2023 AFP. All rights reserved. All information displayed in this section (dispatches, photographs, logos) are protected by intellectual property rights owned by Agence France-Presse. As a consequence you may not copy, reproduce, modify, transmit, publish, display or in any way commercially exploit any of the contents of this section without the prior written consent of Agence France-Presses.