March sales brighten retailers' profit prospects
Summery weather and an early Easter spurred consumers to shop for bright-colored clothes and other seasonal items in March, prompting some retailers to raise their profit expectations for the quarter.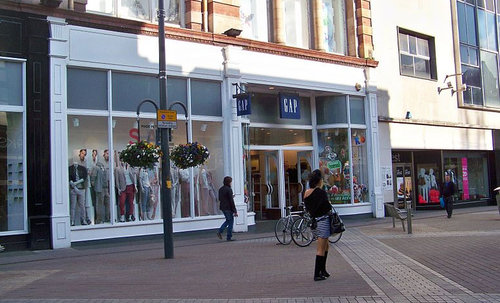 Photo: MTaylor848
Retailers like Victoria's Secret parent Limited Brands Inc, Target Corp, Macy's Inc and Gap Inc beat analysts' estimates for sales at stores open at least a year as they lured shoppers with blue, yellow and pink clothes and other spring merchandise.
One surprise miss came from Costco Wholesale Corp, which suffered from weak foreign currencies compared with the U.S. dollar.
Comparable sales at Limited Brands, a perennial winner, rose 8 percent, trouncing the analysts' average estimate of 4.4 percent growth, according to Thomson Reuters data.
"People were out shopping in March like they haven't in quite a few months," said Joel Bines, managing director of AlixPartners' retail practice.
Last month was the warmest March in more than 50 years, according to weather tracker Planalytics. As in February, the weather helped clothing retailers bounce back from December and January, when they stocked up on merchandise for a winter that never came.
And the Easter holiday falls two weeks earlier in 2012, on April 8 compared with April 24 last year.
But retailers were quick to attribute their sales to more than the weather and the calendar.
"March sales were well above our expectations, reflecting a healthy underlying trend combined with the benefit of an earlier Easter and favorable weather this year," said Target Corp Chief Executive Officer Gregg Steinhafel.
Target's same-store sales rose 7.3 percent, while analysts expected a 5.4 percent increase.
The discount chain now expects quarterly earnings of $1.04 to $1.10 per share before special items, up from its earlier forecast of 97 cents to $1.07.
TJX Cos Inc and Ross Stores Inc, which both sell brand-name clothes at lower prices, also raised their earnings estimates.
The National Retail Federation estimated that Easter sales were likely to be up 11 percent this year over 2011, while ShopperTrak said customer traffic had risen last month because of the weather and somewhat better economic news.
Gap, which had been a drag on the sector until recently, posted an 8 percent rise in comparable sales - an indication that its brightly colored spring clothes were selling well.
Zumiez Inc and American Apparel also reported higher sales at stores open at least a year as they lured shoppers with blue, yellow and pink clothing.
"With spring breaks throughout March and into April, the teen retailers appeared the busiest," Nomura analyst Paul Lejuez wrote in a preview note.
Teens are buying up bright-colored clothes, especially pants, skirts and shorts, he said.
Consumer confidence rebounded to a 13-month high at the end of March, as optimism about jobs and income overcame higher prices at the gasoline pump.
However, good weather, stronger economic data and Easter were still not enough to help Wet Seal, which posted a bigger-than-expected drop in comparable sales. Even warehouse club chain Costco, the biggest retailer to report monthly sales, missed estimates, and its shares fell nearly 2 percent.
"The misses that you see this month are more to do with the retailer's offerings than to do with the shopper, because the shopper was buying," AlixPartners' Bines said.
NBG Productions analyst Brian Sozzi said Costco did not seem to draw as many shoppers as he would have expected, given its low prices.
"Costco has an outsized exposure to California, the state with the fourth-highest gasoline prices in the U.S.," he wrote in a note to clients.
"Somewhere there is a tie-in between stretched household budgets as a result of gas price creep and Costco's bulk offerings, which do require a hefty upfront investment."
Warehouse club chains require customers to pay membership fees to shop in their stores.
© Thomson Reuters 2023 All rights reserved.