Marks & Spencer's Rose in for rough ride at AGM
LONDON, July 7 (Reuters) - The board of Britain's Marks & Spencer (MKS.L) is expected to be on the receiving end of a big investor revolt for the second year in a row when shareholders meet for the retailer's annual meeting on Wednesday 8 July.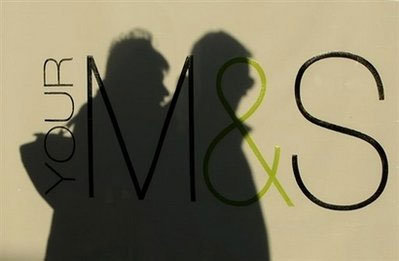 Photo: AFP/File/Carl de Souza
The 125-year-old firm's executive chairman
Stuart Rose
is under pressure for combining the roles of chairman and chief executive last year against corporate governance guidelines.
Having survived an investor rebellion over his promotion last July he now faces a fresh call to share power in what would be the latest in a series of instances of emboldened investors voicing their displeasure publicly against company boards.
Three shareholder advisory groups -- Glass Lewis, Pirc and RiskMetrics -- have asked
M&S
investors to support a resolution calling on the board to split the two roles and appoint an independent chairman by July 2010.
M&S' management has recommended shareholders vote against the resolution, which was filed by the Local Authority Pension Fund Forum (LAPFF).
The M&S board could also face big investor opposition to resolutions to approve its remuneration report and accounts, and re-elect non-executive director Louise Patten, the chairman of the remuneration committee, given concerns raised over share bonuses awarded to executives.
"I believe there's going to be investor support of more than 30 percent in favour of the shareholder (LAPFF) resolution," one top 30 investor who declined to be named told Reuters.
"There is also going to be quite a high proportion of votes against the remuneration report, I would be very surprised if it didn't get over 40 percent or it could even be defeated."
Complicating the issue is that over 20 percent of M&S shares are held by private individuals, who have traditionally been loyal to Rose but who have also seen their final dividend payout slashed by a third.
The signs are the M&S board will ignore support for the LAPFF resolution, which requires the backing of 75 percent of the vote to be carried and is, in any case, advisory rather than binding.
"I think you'll find that (after) the AGM, when we say exactly the same thing as I'm saying to you today, it (the issue) will go away again," Rose told reporters on July 1 when M&S reported a smaller-than-expected drop in first-quarter underlying sales.
He said the board's position on succession -- that it will appoint a new chief executive in 2010 with Rose stepping down as chairman by July 31, 2011 -- had not changed.
However, some analysts reckon big support for the resolution could force the board to re-examine its succession timetable.
"It's extraordinary that Stuart thinks he can just step down (from the CEO position in 2010) and become chairman and oversee a new CEO, possibly from outside. So he may well have to re-think," said Nick Bubb, analyst at Pali International.
Investors have become less reluctant to register protests against company boards than they were in the past.
On Friday 3 July
Tesco
(TSCO.L), Britain's largest retailer, narrowly survived a big protest over changes to its management share option plan, while on Thursday 2 July 36 percent of Home Retail (HOME.L) shareholders at the company's annual meeting voted against the retailer's executive bonus scheme, with a further 7 percent abstaining.
While concerned about corporate governance, some M&S shareholders stress the main challenges facing the firm are to build on its recent recovery and find the right successor to Rose as chief executive.
"Operational excellence and finding the right people to continue that is the main question," said Tim Green, a fund manager at Brewin Dolphin which holds M&S shares.
(By James Davey and Raji Menon. Additional reporting by Mark Potter; editing by John Stonestreet)
© Thomson Reuters 2023 All rights reserved.