Marks & Spencer's Rose survives shareholder rebellion
LONDON, July 8 (Reuters) - British retailer Marks & Spencer (MKS.L) survived a big shareholder rebellion over its management succession plan on Wednesday 8 July, as 38 percent of investors called on Stuart Rose to stand down as chairman earlier than envisaged.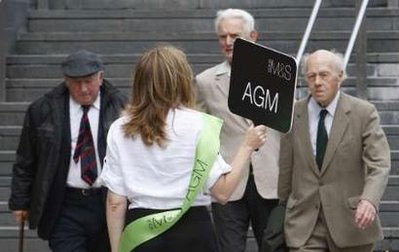 Marks and Spencers' shareholders arrive to attend the store's Annual General Meeting at the Royal Festival Hall in London - Photo: REUTERS/Stephen Hir
Rose, under fire for combining the roles of chief executive and chairman against corporate governance guidelines, also withstood a smaller protest against his re-election, with 21.5 percent of investors either voting against him or abstaining.
"They've got an opinion. We've got an opinion. We won. End of story," Rose told Reuters at the end of a packed annual shareholder meeting. He said he would continue to listen to investors' concerns but did not expect arguments about management succession to overshadow the rest of his tenure.
Marks & Spencer (
M&S
) has pledged to appoint a new chief executive next year and has said Rose will stand down as chairman in July 2011 at the latest.
Rebel shareholders, led by the Local Authority Pension Fund Forum (LAPFF), called on the 125-year-old group to appoint an independent chairman by July 2010, but this was opposed by 62 percent of shareholders in a vote.
Including abstentions, M&S won 60 percent of the vote.
LAPFF Chairman Ian Greenwood told the meeting he had voted for Rose's re-election. "It would have been barmy not to because it's absolutely clear you are running the company well," he said.
But he added that M&S, as one of Britain's best known companies, had a responsibility to set an example.
"The fact that you feel able to break so obviously and for such a long period one of the principal tenets of the code (on corporate governance) gives other people licence to do so," he said, adding: "Whatever happens, we're not going away."
Proxy voting agency Manifest said the LAPFF had attracted twice as much support as any previous shareholder resolution at a FTSE-100 company and the dissent against Rose's re-election was one of the largest protests against a executive this year.
"A LOT OF NASTINESS"
Over 1,900 mostly private shareholders crowded into London's Royal Festival Hall for the meeting and enjoyed a generous lunch including salmon and watercress sandwiches, pork pies, strawberries and South African and Portuguese wines.
M&S is one of Britain's most widely held stocks, with over 20 percent of shares in the hands of private individuals, who have traditionally been highly supportive of Rose, a retail veteran who joined the company as a management trainee in 1972.
"He should stay and get on with the job. I think he's done a good job. There's a lot of nastiness going on," said Eva Ling, a retired teacher from Birmingham.
Some 7.4 percent of investors voted against Rose's re-election as executive chairman, while 14.1 percent abstained.
Just under 15 percent of shareholders also opposed, or abstained in, a vote on the group's remuneration report.
Investors have become increasingly vocal in their criticism of company boards in the recession, particularly over pay.
Last week
Tesco
(TSCO.L), Britain's biggest retailer, narrowly won a shareholder vote over changes to its management share option plan, with 45 percent voted against or abstaining, while Home Retail (HOME.L) survived a rebellion over bonuses.
Earlier this year, investors voted down pay plans at oil group Royal Dutch Shell (RDSa.L), builder Bellway (BWY.L), Royal Bank of Scotland (RBS.L) and lender Provident Financial (PFG.L).
M&S shares closed down 0.7 percent at 306-1/4 pence.
(By James Davey and Mark Potter. Editing by David Jones and David Holmes)
© Thomson Reuters 2023 All rights reserved.