Mayfair jewel robbery suspect found guilty
LONDON - A man was convicted on Friday of taking part in Britain's biggest ever gem heist -- a 40 million pound armed raid on a luxury jewellers in London in which shots were fired.
Aman Kassaye, 24, was found guilty at Woolwich Crown Court of the "high stakes" raid at Graff Diamonds in Mayfair last Summer.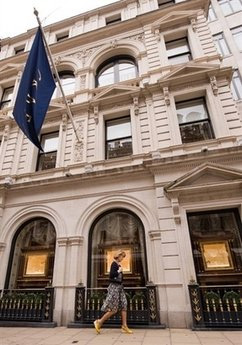 Graff jewellery showroom in London - Photo : Leon Neal
The gems taken in the robbery have never been recovered.
Kassaye, of no fixed address, was convicted of kidnap, conspiracy to rob and possessing a firearm. He was acquitted of a further gun possession charge, the Press Association reported.
The jury is still deliberating on six co-defendants, who all deny charges relating to the robbery.
Along with an accomplice, Kassaye walked into the jewellers, threatened staff with handguns and briefly took a female member of staff hostage. No one was injured in the raid.
The smartly dressed pair took 43 items -- rings, bracelets, necklaces and watches -- and fired a shot as they left. One diamond necklace alone was valued at 3.5 million pounds.
The shop assistant held at gunpoint during the raid later identified him.
The incident was captured on the shop's CCTV system and the dramatic footage was played to the jury.
Kassaye used a professional make-up artist to disguise his appearance the court was told. His defence rested on his assertion that the raid was carried out "by someone remarkably like him."
Detectives said the robbers made their getaway in a blue BMW which they abandoned a few streets away when a second shot was fired into the ground.
The court heard that while the robbery was going on, a manager at the store was forced to lie spread-eagled on the floor with a gun pointed at his head.
In 2003, an international gang of robbers carried out a 23 million pound armed raid at Graff's.
Two members of an Eastern European crime syndicate were later jailed for 20 years for their role in the raid.
(Writing by Stefano Ambrogi; Editing by Steve Addison)
© Thomson Reuters 2023 All rights reserved.