Menswear pioneer Cardin makes 90th birthday 'comeback'
Back in 1958 Pierre Cardin signed up a battalion of students for Paris' first ever men's catwalk show. As he prepares for a comeback show on Sunday, the eve of his 90th birthday, the style veteran thinks he still has a lot to offer modern man.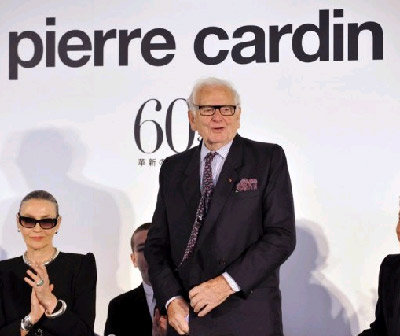 Pierre Cardin / Photo : AFP.
The last active survivor of the great postwar French fashion houses, the Italian-born Cardin is today sole owner of a sprawling luxury empire, but his catwalk shows are few and far between, his last in Paris a women's line in 2010.
"This is a comeback for me, and it's a great pleasure," he told AFP in an interview. "I hadn't shown a man's line in Paris for a very long time. It's a chance to present my style, my personality, what made my name."
"Here is my modern man," the white-haired designer said as he showed off one of Sunday's looks in his Paris office, a black felt jacket with sleeves cut very short, faithful to the space-age theme Cardin has mined on and off since the 1960s.
"Women show off their legs, so I show off men's muscular arms," he explained. "It looks like nothing else, don't you agree? And it's wearable."
Putting on Paris' first menswear fashion show back in the 1950s, before the advent of male models required some lateral thinking.
"I rang up the university deans across Paris - science, maths, philosophy, medicine - and asked them to send me some students," he recalled.
"Around 100 turned up. And the show was a triumph," he said. "At the time, some people frowned at seeing a couturier in men's fashion - but now everyone is in on the game."
Be it branching into men's fashion or ready-to-wear, brand licensing or pushing into Asian markets, which he was first to do a half-century ago, Cardin blazed a trail that many of his contemporaries have since rushed down.
Yet he holds an odd place in the French fashion world, where his relaxed - even cocky - attitude towards licensing his name and making money is seen as somehow incompatible with an artist's calling.
"There are a lot of great fortunes out there, but mine is one that I earned through creativity, not betting on horses or the stock-exchange," Cardin said of his personal wealth, estimated in 2009 at 310 million euros ($385 million).
"What I do, I do with passion," he said, showing off an article about his latest grand design, a 2.5-billion-euro futuristic skyscraper called the Palace of Light in his native Venice.
Very ambitious but not vain
Cardin, who dreamed up the tower together with his architect nephew Rodrigo Basilicati, will lay the first symbolic stone on September 24, with the target of delivering the project in time for the 2015 Universal Exhibition in Milan.
"This is my last great project - for now at least. Because I have to admit I am getting on in age."
"You see when I make sunglasses they look like 'Pierre Cardin' and no one else. The same goes for my skyscraper."
And when it comes to selling Cardin-stamped bath towels or cigarettes?
"Ah, that's commerce, that's something else altogether," he quips back.
For the past two years Cardin's vast empire has been up for sale, but he has yet to find a buyer willing to match his asking price of one billion euros.
"I have had a lot of offers, but when it came to setting a figure I always said no in the end. If you want to buy me, you have pay the right price."
While he can be disarmingly immodest, famously boasting he could dine in his restaurant before catching a show at his own theatre and sleeping in his own hotel, he says his feet are still on the ground.
"I have always been very ambitious. But I am not vain," he insisted.
In fairness, despite the mammoth scale of his business empire - 800 licensed products across 122 countries - Cardin's office, which sits above his sole Paris clothing store, is not your typical business tycoon's den.
Wildly messy, the furniture past its best, the room is chock-a-block with old magazines, press clippings, books and paintings, piled thickly on his desk and spilling out of drawers and off shelves.
He fondly shows off a sketchbook signed by Dior. He was the couturier's very first employee, joining him in 1946, before striking out on his own three years later.
"This is where I live. This is my life," he said, thumbing through pictures of himself with Nelson Mandela or Fidel Castro, on the front page of Time magazine in 1968, or Elle from 1973.
"Forty pages for the Cardin special edition at the time - isn't that something?" he said, rummaging through the archives of his life, showing off a restored chateau here, a line of designer furniture there.
He could go on for hours - but there is one thing Cardin does not want to mention: turning 90 on Monday.
"Oh, no! Let's not talk about that. Or I'll have to throw you out!" he jokes. "Birthdays are for the young. I have no need for gifts. I am getting an extra year, and that is quite enough!"
Copyright © 2023 AFP. All rights reserved. All information displayed in this section (dispatches, photographs, logos) are protected by intellectual property rights owned by Agence France-Presse. As a consequence you may not copy, reproduce, modify, transmit, publish, display or in any way commercially exploit any of the contents of this section without the prior written consent of Agence France-Presses.