Mexico starts investigation in Wal-Mart bribery case
MEXICO CITY - An "indignant" Mexico said on Wednesday it has launched an investigation into allegations that the Mexican unit of Wal-Mart Stores Inc bribed officials to expand its business there, opening a new front to a widening probe of the world's largest retailer.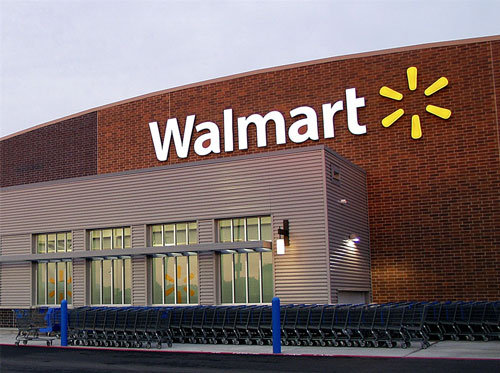 Photo: Wal-Mart Stores Inc
The Mexican federal comptroller's office said it had begun checking the federal paperwork and permits that Wal-Mart de Mexico, known as Walmex, obtained to open and operate its stores in Mexico.
Mexican President Felipe Calderon rounded on Wal-Mart during a speech in Houston, Texas, on Wednesday.
"This makes me very indignant," he told a gathering of members of the Mexican community. "The company has certainly generated many jobs in Mexico and done good things, but what's not right is doing business on the basis of bribes."
The comptroller's office said it would ask U.S. authorities for information on the case in order to carry out its investigation and that the federal government would take action if wrongdoing by public officials was detected.
A spokesman for Walmex said the company had not been informed of any investigation in Mexico.
Wal-Mart already faces a criminal probe by the U.S. Department of Justice over potential violations of the Foreign Corrupt Practices Act (FCPA), a U.S. law that forbids bribing foreign officials.
Mexican politicians had been calling for a probe into Wal-Mart, even though the economy ministry had initially said the allegations were not a federal matter.
Guillermo Tamborrel, a senator from Calderon's conservative National Action Party, said the scandal had tarnished Mexico's reputation.
"We cannot let an international company come and corrupt our authorities," Tamborrel told Reuters.
While some legal experts expected little bite from the comptroller probe, which will look at civil servants' possible misdeeds rather than the company, others said the government will face pressure for results since Mexico now chairs the Group of 20 economic powers and co-chairs its anti-corruption panel.
"I think they will take this very seriously. They have a duty, in terms of global leadership, to show that they can get to the bottom of charges like these," said Eduardo Bohorquez, director of anti-corruption watchdog Transparencia Mexicana, the Mexican arm of Transparency International.
COMPLEX PROCESS
On Saturday, the New York Times reported that a senior Wal-Mart lawyer received an email from a former executive at Walmex in September 2005 describing how the Mexican affiliate had paid bribes to obtain permits to build stores in Mexico.
The newspaper said that senior Wal-Mart officials stymied an internal investigation into the alleged bribery, which involved suspect payments worth $24 million.
Wal-Mart said on Wednesday that Tom Gean, a lawyer who has worked for the retailer for eight years, was placed in charge earlier this year of overseeing its compliance with FCPA. Gean is a former U.S. attorney for the Western District of Arkansas.
Wal-Mart also outlined the high-profile lawyers and accountants aiding its internal investigation into the matter, as well as its worldwide review of compliance, and pushed back against suggestions that its lobbyists tried to scale back the FCPA.
Bentonville, Arkansas-based Wal-Mart has long acknowledged the ramifications of the FCPA law.
Back in 2007, then-Chief Executive Officer Lee Scott made the connection between FCPA and the risk that can come with expanding into other countries. At an analyst meeting, Scott was asked whether Wal-Mart would look at entering Russia.
"We, as a company, are committed to ethical and responsible methods of running our business," Scott said, according to a transcript of the meeting.
"We will not position ourselves in a market in which we would jeopardize that. The Foreign Corrupt Practices Act is the only act that requires the incarceration of the CEO. And we are not going to do that."
Scott is one of the top executives whom the Times said stymied an investigation into alleged bribery in Mexico earlier in the decade.
Also on Wednesday, a shareholder sued Wal-Mart's board and several officers, seeking to recover damage to the company's reputation as well as costs of investigating the claims.
Wal-Mart shares ended down 0.7 percent on Wednesday at $57.36, their lowest close in five months and down more than 8 percent since the New York Times report. Walmex shares gained 3.7 percent to close at 37.55 pesos ($2.85) on Wednesday, but have fallen nearly 13 percent since the report.
An official at the Mexican comptroller's office told Reuters the agency launched the investigation after it found unspecified evidence that warranted closer scrutiny. It did not receive a specific complaint against the retailer, the official said.
If the comptroller's office establishes wrongdoing by a public servant, it can fine and suspend that person from their post. The agency can then turn its findings to the attorney general's office for them to launch a criminal investigation.
John Ackerman, a legal expert at the National Autonomous University of Mexico (UNAM), said the comptroller's office had not notched up many successes in previous probes, noting that the investigative process could take "years".
"To say that the (comptroller) is going to look into things is basically not to say much at all," Ackerman said.
The comptroller could blacklist Wal-Mart from future government contracts, but it cannot fine the company, he added.
Still, last fall, the comptroller's office suspended and fined a high-ranking Pemex executive almost 284 million Mexican pesos ($23 million) after an investigation into corrupt practices at a subsidiary of Mexico's state oil company.
That fine was one of the highest ever levied in Mexico.
The official at the comptroller's office said the agency's fastest probe took three months to present its findings.
HIGH-POWERED LEGAL TEAM
Wal-Mart has been assembling a group of legal and accounting experts with proven reputations to defend its name.
Former U.S. congressman Asa Hutchinson, who served as a U.S. attorney in the Western District of Arkansas in the 1980s, said Gean had an excellent record as a prosecutor.
Asked whether recruiting a compliance officer from its internal ranks could hurt Wal-Mart's ability to project it was cleaning house, Hutchinson said: "Let's see how it plays out ... I would certainly recommend that they balance this internal compliance officer position with a monitor that has a higher level of independence and an outside view with credibility."
Robert Balfe, who was U.S. attorney for the Western District of Arkansas after Gean left, also now works at Wal-Mart as a senior associate general counsel in its legal department.
Law firm Jones Day is leading Wal-Mart's investigation and is reporting to the audit committee of the board, which is comprised of four independent directors.
Deloitte
is the investigative forensic accountant assisting Jones Day on the investigation launched in November 2011, Wal-Mart said.
Cahill Gordon & Reindel is serving as outside counsel to the audit committee, Wal-Mart said.
Greenberg Traurig is the outside counsel for the worldwide compliance review Wal-Mart says it started in March 2011, and reports to Gean.
KPMG
is serving as compliance review accountant, assisting Greenberg Traurig.
Lawyers from Jones Day include Karen Hewitt, a former U.S. attorney for the Southern District of California.
Lawyers from Cahill Gordon include partner David Kelley, a former U.S. attorney for the Southern District of New York. His hourly billing rate is $995, according to a May 2011 filing made in the bankruptcy of CB Holding Corp.
Lawyers from Greenberg Traurig include John Pappalardo, a former U.S. attorney for the District of Massachusetts who also represented former Yukos Oil Company CEO Mikhail Khodorkovsky when he was on trial for fraud and tax evasion. Pappalardo's hourly billing rate is $875, according to a December 2011 filing made in the bankruptcy of Shengdatech Inc.
Greenberg Traurig's Joe Whitley, a former U.S. attorney for the Middle and Northern Districts of Georgia, had an hourly billing rate of $795, according to the same filing made in the Shengdatech bankruptcy.
The hourly rates in past work for Kelley, Pappalardo and Whitley are typical of elite partners at major law firms.
© Thomson Reuters 2023 All rights reserved.