More than 15,000 visitors in a month for Balenciaga exhibition
Vitoria, 6 August 2009 (EFE) – More than 15,200 people have visited the "Balenciaga: the inspiration" exhibition at the Fundación Caja Vital de Vitoria since the 2nd of July, which is showing twenty paper reconstructions of models from the Gipuzkoan designer.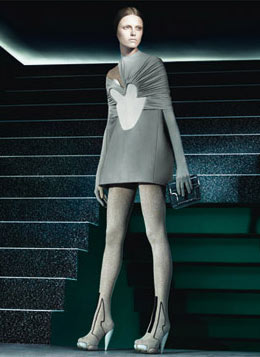 Photo: www.balenciaga.com
The exhibition, will remain open throughout the month of August, also includes the creations of new designers from the region who have been inspired by Balenciaga's work.
Twenty paper models from the designer have been reproduced exactly and in real size in order to reflect the evolution of his work and the course of his career, explained Caja Vital in a communiqué.
The nine designers from Álava whose work is being shown concomitantly are Beatriz Olazábal, Estíbaliz de Cristóbal,
Isabel Arroyabe
, Iván Vaz Pilo, José Carlos García Herrera, María Cle Leal, Nuria Conesa Caballero, Sidonie Ngoko Taghue and Susana Pérez.

By Jonathan Fulwell (Source: EFE)
© EFE 2022. Está expresamente prohibida la redistribución y la redifusión de todo o parte de los contenidos de los servicios de Efe, sin previo y expreso consentimiento de la Agencia EFE S.A.