Most workers oppose S.Africa Implats deal, strike on
JOHANNESBURG, Aug 26 (Reuters) - The majority of union members at Impala Platinum (IMPJ.J) appear to have rejected the latest wage offer by the platinum producer and strike at the group's largest mine is continuing, a union said on Wednesday 26 August.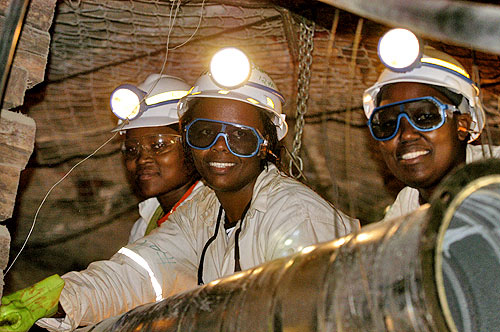 Photo: www.implats.co.za
Implats spokesman Bob Gilmour said more than 20,000 workers were involved in the industrial action, ignoring a weekend call by the National Union of Mineworkers (NUM) to suspend the strike.
NUM spokesman Lesiba Seshoka said the union would meet with its members later on Wednesday 26 August to get the exact figures, before discussing the dispute with Implats management.
"From the looks of it, the majority oppose it," Seshoka told Reuters.
Implats' offer of a one-year wage agreement with a 10 percent pay increase for all workers appeared to have met NUM demands, but the union said some members were holding out for a 13 percent hike, nearly double the rate of inflation.
The strike will dent Implats' output, may hurt investor confidence in a sector hard hit by the financial crisis and affect prices of the precious metal used in catalytic converters to remove pollutants from car exhausts and in jewellery.
South Africa produces four-fifths of the precious metal, and Implats supplies 25 percent of global platinum output, mainly from its South African operations and its Zimbabwean mines.
"We will speak with the union in the course of the morning to see what the issues are," said Implats' Gilmour
Acquarius Platinum (AQP.AX) (AQPJ.J) said separately that underground mining contractors at its Kroondal and Marikana operations had been on strike since the evening shift on Sunday 23 August, affecting 75 percent of the units' underground mining work.
The workers embarked on the strike despite a wage settlement between the contractor and the union on Friday 21 August and a withdrawal of a strike notice. (Reporting by Agnieszka Flak; Editing by Giles Elgood)
© Thomson Reuters 2023 All rights reserved.