New EU trade plan attracts broad internal criticism
May 6 - The European Union's trade chief has proposed opening the EU to more imports from developing countries, fuelling a debate about protectionism and the bloc's ties with trade partners such as Pakistan.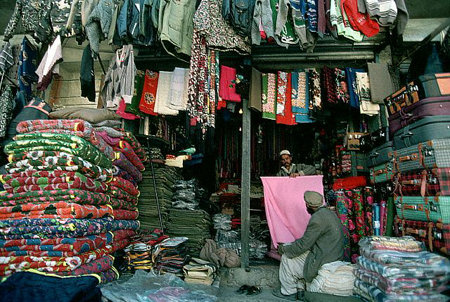 Merchants fold a piece of cloth among piles of fabric at a textile store in Hunza, Pakistan
Trade Commissioner Karel De Gucht's office has proposed that the threshold for imports under the EU's Generalised System of Preferences (GSP) be increased, leading several EU commissioners to raise strong objections, citing potential harm to Europe's textile and biofuels industries, among other issues.
De Gucht's proposals, which are due to be formally presented on Tuesday, would grant preferential trade terms to poorer countries whose exports to the EU make up 2 percent of total EU imports, raising the limit from 1 percent currently.
That would allow both Pakistan and Ukraine, whose exports are more than 1 percent of total EU imports, to take advantage of the EU's most preferential trade status. Pakistan is a major producer of textiles and both are producers of ethanol.
In a document seen by Reuters, senior representatives for 10 of the 27 members of the Commission opposed the plan, saying it could unfairly benefit Pakistan and Ukraine, while harming textile and other industries in Portugal and elsewhere.
"Three key points remain unresolved that have given rise to objections" on a reform to GSP, said the document, which was prepared after a Commission meeting on Thursday.
POLITICAL SIGNAL
Senior officials responsible for agriculture, internal market and industry policy warned that Pakistan and Ukraine's booming exports would hurt EU producers, the document showed.
They demanded a rewrite of the draft to allow Europe to shut its markets in the event of specific import surges.
One official questioned the political signal the EU would be sending in granting Pakistan GSP Plus status, particularly in light of "current events", a reference to allegations that elements in Pakistan may have helped shelter Osama bin Laden.
De Gucht's plan is the first step in an EU reform of trade preferences that will address the soaring growth in exports from countries whose economies are technically still "developing". The reform needs approval from EU governments and the European Parliament, a process expected to take until late 2013.
The strong disagreement prompted by his plans suggests the EU has a long way to go to resolve internal differences over policy before it even tries to improve its external relations.
An earlier attempt to lift the GSP threshold from 1 percent to 1.5 percent already failed, and a separate effort by the EU to improve trade terms for Pakistan following its flood disaster last year is now bogged down in dispute at the WTO.
De Gucht's latest plan would also extend Indian textile exporters' access to a preferential tariff regime that they have almost outgrown under current rules, according to trade sources.
Brazil and Argentina would be among the losers as the draft would strip them of preferential status, one source said.

By Juliane von Reppert-Bismarck and Francesco Guarascio
(Editing by Andrew Roche)
© Thomson Reuters 2021 All rights reserved.