November retail sales drop, but Wal-Mart surprises
By Brad Dorfman
CHICAGO (Reuters) - Many retailers posted sharply lower November sales at stores open at least a year, prompting some investors to pour into the sector on hopes the dismal results signaled a bottom for share values.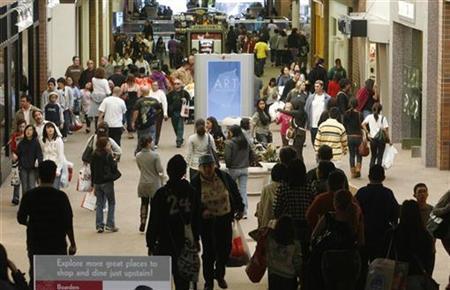 Discounter Wal-Mart Stores Inc bucked the trend with a bigger-than-expected rise, helped by lower gasoline prices and record sales of grocery items close to the U.S. Thanksgiving holiday.
Excluding results for the world's largest retailer, same-store sales fell 7.8 percent, worse than the 6.9 percent decline forecast by analysts, according to Thomson Reuters. That was the worst monthly performance since it began tracking sales data in 2000.
For example, Wal-Mart rival Target Corp posted a 10.4 percent drop in November same-store sales and forecast a mid-single-digit to low-double-digit drop for December.
But in a sign for the better, nearly half of the 35 retailers reviewed by Thomson Reuters beat bleak sales estimates.
"The reaction is that worse than this, we're unlikely to see. And when you think in those terms, you begin looking forward positively," Gilford Securities retail analyst Bernard Sosnick said.
Several clothing retailers, including Gap Inc and Pacific Sunwear of California also surprised forecasts with more moderate-than-expected declines. performed better than analysts had forecast.
Aggressive discounts and deals helped lure consumers into stores on Black Friday, the day after Thanksgiving that kicks off the key holiday shopping season. But that was the lone bright spot for most retailers and the price-cutting was also expected to eat into retailer margins.
Sales on Black Friday, which fell on November 28 this year, were a little better than expected, said Ken Perkins, president of research firm Retail Metrics.
"It caused the early (November) results to just simply be miserable instead of terrible," he said.
Wal-Mart shares rose 2 percent, while the Standard & Poor's Retail Index surged 5 percent. Nordstrom shares rose 15 percent, Aeropostale rose 11.2 percent and Gap shares gained 7.2 percent.
WORST MONTHLY DROP
Consumers facing a recession, job losses and tight credit have cut spending on all but the most essential items. During the Black Friday weekend, they mostly bought items that were deeply marked down, analysts said.
A calendar shift that eliminated a week of holiday shopping from November results also cut into sales.
"It's still very clear from the results the most important thing is price," Richard Jaffe, retail analyst at Stifel Nicolaus, said. The new fashion is frugal. The new black is 60 percent off."
But those discounts will also cut into retailers profits.
"It's going to be really difficult to maintain margins" on items like small electronics and apparel, said Sarah Henry, retail analyst at MFB Global Investment Management.
Retailers' fourth-quarter profits are now estimated to be down 15.8 percent in the aggregate, compared with an average estimate of a 3.2 percent decline at the beginning of the quarter, Perkins said.
BLACK FRIDAY, THEN BLACKOUT
Most of November was a tough one for retailers, analysts said. And even the Black Friday boost was short-lived.
"While we generated strong sales on Black Friday due to special promotions that helped to drive traffic, sales tapered off over the weekend," said Jim Famalette, CEO of department-store operator Gottschalks Inc .
Costco Wholesale Corp posted a 5 percent same-store sales decline, largely due to falling prices for the gasoline it sells and a strengthening U.S. dollar, which cuts sales overseas.
Food sales and sales of televisions were strong for the warehouse club. Excluding foreign exchange and gasoline, the company said same-store sales would have been up about 3 percent.
Department stores continued to be among the laggards. Bon-Ton Stores Inc posted a 16 percent same-store sales drop and Macy's had a worse-than-expected 13.3 pct decline.
Teen retailer Hot Topic, which is featuring merchandise based on the hit vampire romance movie "Twilight," posted a 6.5 increase in same-store sales and said it now expected quarterly earnings at the high end of its forecast range.
Meanwhile, The Buckle Inc , which sells jeans and other clothes and accessories to young adults, posted a 15 percent increase in same-store sales.
On the kids' front, Children's Place Retail Stores Inc posted a worse-than-expected 7 percent same-store sales drop.
(Additional reporting by Nicole Maestri and Sarah Coffey; Editing by Lisa Von Ahn, Dave Zimmerman)
© Thomson Reuters 2023 All rights reserved.