Olympic Games: brands in the line of fire on Twitter and Facebook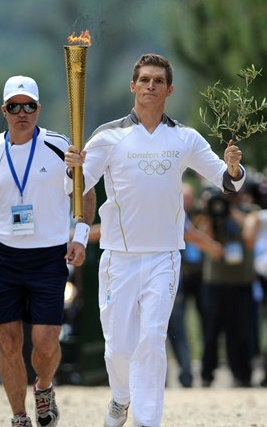 The Olympic torch sets off from Olympia / Photo: london2012.com
The London Organising Committee of the Olympic Games intends to ban athletes and spectators from using Twitter and Facebook during the competition. Its objective is to reduce the visibility of non-official sponsors.
Athletes will be banned from publishing photos and videos during the games, thereby preventing any non-partner brands from making an appearance. Better still, they won't be able to mention the competition or any non-partner brands in their messages. The measures certainly won't please the athletes' sponsors, who are not necessarily sponsors of the Games.
The intellectual property concerns don't stop at the competitors: spectators at the events will also be banned from publishing images for the same reason, but also to protect media partners' exclusivity – a term printed on the back of the tickets.
The war between different sponsors will step up a notch as a result. Amongst the Olympic Games' international partners are
Procter & Gamble
and
Omega
, whilst
Adidas
is the sponsor for just the London Games. Other brands will have to resort to more cunning marketing strategies to get round this policy.
But putting the spotlight on official sponsors rarely succeeds in eclipsing other brands. At the Atlanta Games in 1996, when Coca Cola was the supreme official partner, Marie-José Pérec beat a world record wearing Pepsi's colours. The torch at the Adidas-sponsored Beijing Olympic Games was lit by
Li Ning
, founder of Adidas's eponymous rival brand, whilst
Nike
had strategically clothed all the Chinese athletes. But it was
Puma
that really stood out when the Jamaican Usain Bolt showed off his gold running shoes after the 100 meters final.
It goes without doubt then that ways will be found to get around the policies restricting freedom of expression on social networking sites. On paper, for example, there's nothing to stop a brand from mentioning its athletes or publishing agency photos of them.
Copyright © 2022 FashionNetwork.com All rights reserved.