One Million collector's edition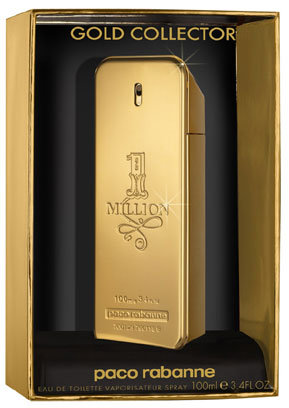 One Million Gold Collector
Number one in sales of men's fragrances in 2008, it could be said that the time was ripe for a collector's edition. From September, One Million by
Paco Rabanne
will be released in a Gold Collector edition.
From its release at the start of 2008, One Million positioned itself against the current of the minimalist movement, zen and purification, instead using a background of conspicuous consumption; resulting in a success, according to the figures. This success came as a surprise for many observers though. The fragrance was well in the lead of men's sales for a number of months in a row and the
Puig
group, who produced One Million under licence for Paco Rabanne, is satisfied with the result.
With insolent packaging – a gold ingot which made the link to Paco Rabanne's designer material, music from the Chemical Brothers ('Do It Again') and a production from Paul
Gore
, who also wrote the television advertisements "Fuel for Life" for
Diesel
– the group has marketed its product well, a necessary step in a field where there are successive launches that cater to all price bands. The gold ingot is appealing and audacious so Puig has therefore decided to go
one step
further.
From the autumn, One Million Gold Collector will be available. It will consist of a 100ml metal bottle with glass sides and golden lacquering and will be sold for €68.50 ($95/£60) in a selection of points of sale.
By Jonathan Fulwell (Source: Emilie-Alice Fabrizi)
Copyright © 2022 FashionNetwork.com All rights reserved.