Online retailer My-wardrobe to open Asian doors
SINGAPORE - Consumer comfort, social media and mobile devices lie at the heart of online retailer My-wardrobe's strategy in Asia, said Sarah Curran, the company's founder, on Wednesday.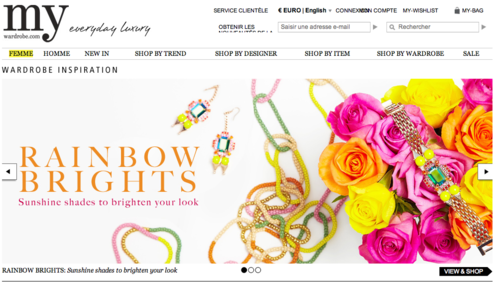 Screenshot : my-wardrobe.com
The company, already big in the United Kingdom, is expanding to the Asia-Pacific region, and tech-savvy Singapore is the first stop of its Asian rollout. It's also where Curran intends to learn the tastes and cultures of Asian consumers before expanding further into the region.
"The Asian consumer has been much more of an early adopter to social media, and much more open in terms of online," Curran told Reuters while she was in Singapore for the Audi Fashion Festival.
"He is much more online-savvy than, necessarily, the French consumer, who were very late in adopting online shopping."
The retailer works closely with bloggers and shops, getting them to feature items in "outfit posts", blog posts where models wear items from the retailer.
Blog owners are paid each time a customer clicks through to My-wardrobe's site or makes a purchase from a post. It is a strategy that has worked in Australia, where growth has tripled in 12 months.
The company also launched the mobile version of its site last December. Sales from mobile devices already bring in 15 percent of revenue on a 12-month pro-rated basis.
No date has been set for the Singapore launch while the company focuses on building its Australian business, but the wealthy city state is next right after that.
My-wardrobe, which Curran founded in 2006, sells middle-to-high-end pieces from diffusion lines for customers who focus on wearability and who want to buy into the cult brand of a fashion house but haven't a large disposable income.
Diffusion lines, or second lines, are merchandise from designers that retail at more moderate prices, while bearing names or design motifs adapted from the main line.
The retailer prices itself between other online fashion retailers Asos and Net-a-Porter in terms of affordability.
Asos, the biggest online-only fashion retailer in the UK, sells items priced for the 16-to-34 age group. London-based Net-A-Porter serves the higher end of the market, where well-heeled customers shop expensive main lines from heritage brands the likes of Burberry and Yves Saint Laurent.
Curran says My-wardrobe is about seizing an untapped area of the market, the comfortably affluent consumer who buys above Asos but below Net-A-Porter.
"If you look at the fashion houses, where they have volume is in the second-line brands from the mainline collections. The mainline collections are the showcase, but the money and the cash cow comes from the second-line brands," she said.
"When people have to start changing their spending patterns or their disposable income is different month-on-month, what they want to do is that they don't necessarily want to move away from that designer so they buy into the second-line. So it's not so much Chloé, it's C by Chloé, or it's M Missoni for instance."
Wearability is another factor for the move toward diffusion lines, with pieces from mainline collections too expensive to wear every day, Curran added.
"That's very much how the consumer is buying. They want to buy into luxury, but they want to be able to fit it into their everyday lifestyle," she said. (Reporting By Leonard How, editing by Elaine Lies)
© Thomson Reuters 2023 All rights reserved.