Oscar fashion goes to the dogs -- for real!
By Alexandria Sage
LOS ANGELES (Reuters) - Are you one of the millions of fashion fiends who covet Oscar red carpet styles? Sadly, the costly gowns worn by Hollywood's elite will likely never adorn your non-celebrity body -- but there may be hope for your dog.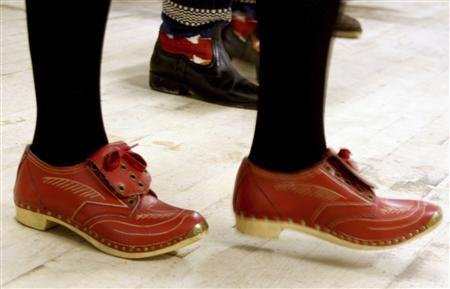 Now, the ruffles, lace, satin and sequins seen on A-list stars like Reese Witherspoon can be worn by Fido, thanks to a red carpet collection of dog wear designed by two Tinseltown textile hounds and inspired by the Oscars' red carpet fashion.
Designer Lara Alameddine and her husband and business partner, Daniel Dubiecki, own Little Lily, a pet-centric lifestyle brand based in Tinseltown.
For years, they have made Hollywood-style garments for dogs and are immersed in the mix between movies and canines.
He is a producer on best film nominee "Juno", and she designs dog outfits for movies. Remember Elle Woods' Chihuahua in the "Legally Blonde" movies? It has worn Little Lily.
An Oscars collection from 2007 featured a bead-encrusted version of the Grecian-inspired Marchesa gown worn by Jennifer Lopez. Another piece was inspired by the avant-garde scarlet Balenciaga that adorned Nicole Kidman.
This year, Alameddine and Dubiecki will attend the Oscars, see who's wearing what, and within two days come out with five new looks for canine fashionistas that cost about $150 (77 pounds) each.
DRESS FOR SUCCESS
As in the human world, being small-boned is an asset in dogwear, and it's more fun to be female. The collection fits smaller breeds like Yorkshire Terriers, Maltese and maybe a Pug or French Bulldog -- diminutive dogs that elicit squeals.
But it's not easy fitting dogs in glamour. "There are some challenges," admits Alameddine. "They don't have shoulders."
Ruffles must be tacked down, and flowing fabrics can get caught in paws or inspire chewing.
"Anything that comes out at the waist looks very good because it divides up their torso," said Alameddine. "Anything that's too busy doesn't look great because they're so small."
Dog lovers who dress their dogs for success really like pink, Alameddine said. And as for the dogs' point-of-view, there is Lily, a Yorkie owned by Alameddine's mother.
Lily believes fashion is life, and she has a wardrobe to die for -- 300 outfits ranging from hoodies to formal wear.
But like many woman, Lily has a few body issues.
"She's on the curvaceous side," and that means when bikini season comes around, "She hides," Alameddine said.
© Thomson Reuters 2023 All rights reserved.