Out of love with China, fashion factory moves west
PARIS - A string of countries on and around the fringes of western Europe are becoming new centers of fashion clothing manufacturing as China moves up the industrial value chain and brands discover adaptable suppliers closer to home.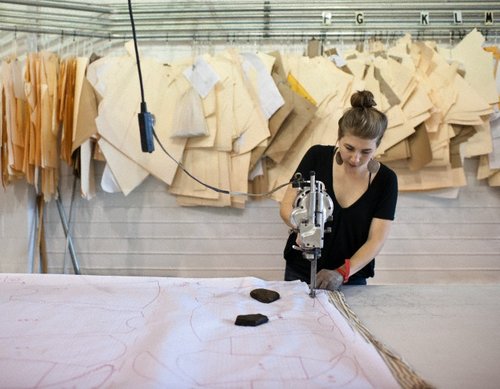 Photo: Corbis
Sourcing from China is getting more expensive, but it is still cheap, so a decision to go for Made in Morocco or Made in Moldova instead is not all about price.
This is an industry where fickle consumer behavior is the main driver of demand. Players have to be nimble to survive against heavyweights like Inditex's Zara, which can have a catwalk dress look-alike in its stores within weeks, and which already counts 60 percent of its offering as "close or nearby production" - Europe and nearby places.
"Of course it is more expensive for us to make things in Turkey and Tunisia than in China, but it is not that much more expensive considering how much salaries (in China) have increased, and it is much more convenient for us because it is closer, so we have more control over quality," La Perla designer Giovanni Bianchi told Reuters. The maker of fine lace underwear moved production of its mass-market Studio La Perla label to Turkey and Tunisia from China late last year, and has also moved sourcing of its nightwear from China to Portugal.
It estimates that for every 10 euros it spends in China on labor, for the same work, it pays 15-16 euros ($20-21) in Tunisia or Turkey - so China remains cheapest by its calculations.
But that is changing.
China's national wage index has been rising on average by 15 percent every year in the past five years. Institut Francais de la Mode, France's fashion trade group, estimates monthly pay in China's coastal areas soared to 400 euros in 2011 from 240 in 2005. That compares with current pay rates of 160 euros in Tunisia, 152 euros in Morocco, and 200 euros in Moldova.
And tougher manufacturing terms demanded by Chinese factories have also given fashion companies second thoughts about working with them. French Fashion houses Jean-Charles de Castelbajac and Barbara Bui, and ready-to-wear group Etam, have also recently moved part of their production closer to home.
They say Chinese manufacturers put increasing pressure on them to place orders bigger than they want to commit to, risking unsold stock and resulting discounts that could harm brand image.
"The price/quality ratio we got in China was no longer what we wanted," said Celine Lopes, who oversees production at Jean-Charles de Castelbajac and recently moved production to Hungary.
Barbara Bui moved output to Hungary, Bulgaria, Romania and Turkey in 2010. "The distance and language barrier in China made it difficult for us to always control quality," said Deputy Chief Executive Jean-Michel Lagarde.
"We can more easily impose our way of doing things when we work with manufacturers in southern and eastern Europe."
Etam has 20,000 employees in China, but last month it announce a move for some of its production to Tunisia, Morocco, Portugal, Greece and Turkey. "This is to increase our reactivity and gets things to market faster," said managing director Laurent Milchior.
PICK AND CHOOSE
Anne-Laure Linget, a spokeswoman for France's trade body that represents French lingerie and knitwear, said Chinese manufacturers have become tougher on payment, schedules and volumes since the closure of plants in the downturn of 2008/2009 gave those that remained a stronger bargaining hand and allowed them to pick and choose their customers.
"Chinese companies prefer (lingerie) orders coming from the U.S. because they are less complicated than European ones as U.S. brands use more basic designs and need bigger volumes than European brands," Linget said. "So Chinese manufacturers have become less keen to work with Europeans and have tightened their terms." She said some brands also found that manufacturers in Eastern Europe, Tunisia and Turkey expressed more interest in taking part in the elaboration of the manufacturing process than their Chinese counterparts.
The shift is also to some extent a byproduct of a deliberate and centralized Chinese government policy. Asia's No. 1 economy wants to keep moving up the value chain into manufacturing that require skills and technologies.
"In the latest 5-year plan, Beijing aims to retain only those high value-added manufacturing industries and that brings up cost as a whole," said Paul Tang, chief economist at Bank of East Asia.
Asia remains the European branded fashion industry's manufacturing powerhouse, representing 75 percent of sourcing in 2012, according to a study by the Institut Francais de la Mode.
And between January and September last year, the value of orders from China rose 8 percent from a year earlier to 23 billion euros, the study said, still dwarfing even the bigger players among the new breed closer to home, such as Morocco, where orders grew 10 percent to 1.7 billion euros.
But the study noted that French fashion and lingerie brands had developed a strong interest in working with Bulgarian manufacturers, and that more than a quarter of all French lingerie is now made in Tunisia and Morocco.
It also highlighted Ukraine as a hotspot, with big brands including Hugo Boss, Quiksilver and FCUK while in Romania, they included Harrod's, Zara and C&A. In Belarus, big clients were Calvin Klein, DKNY and Next while in Moldova they were Dolce & Gabbana, Guess and Armani and Cavalli.
NEXT STOP DETROIT?
Crouched over their sewing machines in a brightly-lit factory in eastern Tunisia sit dozens of women in blue uniforms, carefully stitching bras and lingerie that might have been made by workers in China but for this trend.
The factory, in an industrial zone near the city of Sfax, employs 700 workers and makes lingerie and swimwear for La Perla and other brands.
At other tables, factory workers check finished bras in white and cream lace for defects before sorting them into yellow and grey crates for packaging. The clatter of sewing machines bounces off the white walls.
Manager Michel Demurs worries about the cost of raw material and the impact of last year's Arab Spring, which he says has discouraged some clients, but if the trend he is part of continues, these may prove to be minor concerns, and it may not just be clothing manufacturing coming his way.
Stanley Lau, deputy chairman of the Federation of Hong Kong Industries, which represents around 3000 industrialists running factories in China, estimates that production costs in China have gone up 20-30 percent over the past two years.
He says the country remains very strong in basic manufacturing with formidable supply chains and industrial clusters in regions like the Pearl River Delta, but competition is warming up. "Foreign investors are already not treating China as the only choice, they make other considerations. In the past they would only think about China as a place to set up a factory, but now there are four or five choices for them ...They will consider other factors like proximity to market, labor, the supply chain, in making such decisions." So how far west might the factories move? "We've seen some enterprises set up factories in Detroit," says Lau. "You can see that this has become a trend."
(additional reporting by James Pomfret and Donny Kwok in Hong Kong, Lin Noueihed and Souissi Zoubeir in Tunis, and Sonya Dowsett in Madrid; Editing by Andrew Callus)
© Thomson Reuters 2023 All rights reserved.