Palm oil could scuttle forest carbon plan
By Sunanda Creagh

NUSA DUA, May 29 (Reuters) - Carbon credits derived from a fledgling forest conservation scheme for developing nations will struggle to compete with palm oil as an investment, industry advisers and conservationists said on Friday 29 May.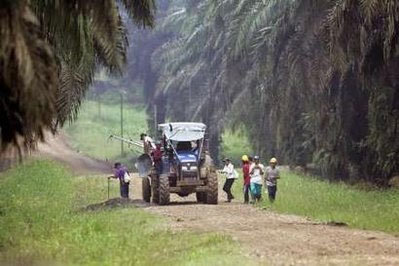 Photo: REUTERS/Ahim Rani
A U.N.-backed scheme called reduced emissions from deforestation and degradation (REDD) allows developing countries to raise potentially billions of dollars in carbon credits in exchange for conserving and rehabilitating forests.
However, profits from palm oil plantations could, in some cases, out-compete revenue from selling REDD credits, said Joe Leitmann, the World Bank's environment coordinator for Indonesia.
"The opportunity costs we have to overcome in order for REDD to work can almost all be overcome, except for oil palm grown on mineral soil. That will be so profitable and so difficult to beat," he said, speaking at a forestry conference on the Indonesian island of Bali.
Palm oil is used as a vegetable oil for cooking, in chocolate bars and margarine, as well as in soaps and cosmetics and in biofuels for transport.
Indonesia and Malaysia produce most of the world's palm oil and large areas of forest have been cleared in both countries over the past two decades to fuel a boom in palm oil production.
Early this month, Indonesia became the first country in the world to release regulations governing REDD, although it has yet to agree on revenue-sharing rules for the sale of REDD credits from projects that aim to preserve and replant forests.
Earlier drafts of Indonesia's REDD rules said up to 30 percent of the money should go the government but this has been widely criticised by investors.
INCENTIVES
Agus Sari, the Southeast Asia policy director for carbon offset trading company EcoSecurities, said a tax that high could scuttle REDD.
"Palm oil already gets a lot of incentives like very, very low duty rates," he said. "It is taxed at one percent and they are talking about 30 percent for REDD - it's easy to see where the money will flow to."
Forests soak up vast amount of carbon dioxide and REDD aims to reward governments and local communities for every tonne of CO2 locked up by a forest over decades, equating to a potentially very large flow of cash globally for forest credits.
Modelling done by the Indonesian government showed carbon credits would need to sell for around $21 per tonne to be more valuable than palm oil, but EcoSecurities research published last month showed that most carbon offset buyers were only willing to pay between $7 and $9 per tonne of carbon dioxide saved.
However, a recent study by global conservation group
WWF
showed that "you can get better bang for your buck in palm oil if you increase the efficiency of existing plantations rather than expanding the plantations", Rodney Taylor, director of WWF's Forests Programme, told the conference.
Rhett Butler, author of conservation website Mongabay.com, told Reuters by telephone that REDD credits could compete with palm oil if countries were required to buy them under a U.N resolution.
Their purchase is currently voluntary but REDD is likely to be included in a new climate agreement the United Nations hope to seal at the end of the year during a meeting in Copenhagen in December. The aim is to agree on the broad outlines of a successor to the Kyoto Protocol, whose first phase ends in 2012.
Butler's economic modelling showed that REDD credits arising from 10,000 hectares (25,000 acres) of conserved forest sold over a 30-year period -- where payments were front-loaded so that most of the money was delivered within the first eight years -- could fetch about $118 million if those credits could be used to meet emissions obligations for rich nations.
However, the same credits would fetch only $14 million if their purchase was voluntary.
"Whereas high-yield palm oil would get about $96 million," he said, adding that even under a U.N.-backed compliance system, corruption and land-grabs would still be major risks.
© Thomson Reuters 2023 All rights reserved.