Paris haute couture stitching up new markets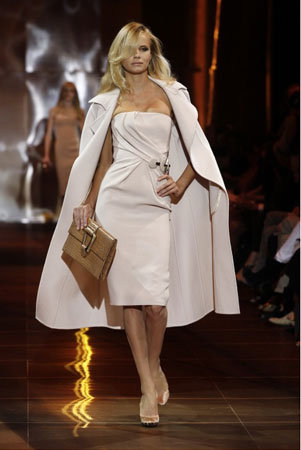 Giorgio Armani Privé Haute Couture show, Paris
PARIS (Reuters Life!) - Designers of French haute couture are finding the tastes and pocketbooks of emerging market clients have been a boost for dwindling sales as they spread their commercial nets beyond wealthy Westerners.
Slight alterations to classic designs, a nod to regional tastes and the exclusive allure of the traditional French atelier is proving a useful pattern for today's couturiers looking to stay afloat in a tougher financial climate.
Designers justify the price of haute couture -- a dress can cost $100,000 or more -- by saying it is art, pure and simple. They set the tone and the clients, hopefully, follow with their pocketbooks.
This year's catwalk shows appear to be bearing in mind the old adages that fashionistas from conservative Gulf states favor long dresses, Chinese clients like to see a hint of red and black, the Lebanese like bright colors and sparkle, while Russians look to body conscious clothes.
"In Moscow you can wear a very short skirt. Show your breasts and legs forever. You can wear the most beautiful jewels and it is not vulgar. Try that here in Paris," said Anna Sherbinina, a Russian actress after the Elie Saab haute couture show on Wednesday.
At the haute couture shows in Paris this week, sparkle, sequins and metallic's were in abundance, reflecting Russian and Arab tastes. Even Chanel, the powerhouse of French couture, made brightly colored cocktail dresses that were a far cry from the sober black dresses of the house's founder.
Armani paired skin tight trousers with enormous handbags that seemed to draw the attention of Arab clients and Stephane Rolland presented sculpted dresses from thick taffeta and leather that flatter the rounder figures not normally associated with the rake-thin Western acolytes of haute couture.
Some observers note that haute couture, which is expensive to produce and has only a few hundred clients worldwide, is better served by practical designers chasing new money.
Last year Christian Lacroix, who created extravagant and some say unwearable dresses, closed his doors because he could no longer sustain the cost of designing dresses by hand.
But others say that if designers cast their nets too wide they risk their unique identity and exclusive status. Chanel remains a powerhouse because most of Karl Lagerfeld's shows still hint at the designs of Coco Chanel from the 1930s.
"On one hand you have to think about your clients, your girls. But once you start following them, servicing (just) them, you are finished..." said Aliona Doletskaya, Editor-in-chief of Russian Vogue.
There is also allure in the singular dress from Paris that reflects European tastes and comes from the kind of designer one can only find in the Rue du Faubourg Saint-Honoré.
"They want to go to a real French atelier. There is no real difference in tastes," said designer Stephane Rolland after his couture show on Tuesday.
Some designers are eschewing the wider nets strategy to hone in on the clients who are loyal to them. Elie Saab has an enthusiastic following of Arab women, many of whom clapped appreciatively throughout his haute couture show on Wednesday.
His dresses which played on nude and earth tones were long and flattering, with full skirts and voluptuous fabrics.
A grey and gold wedding dress modeled at the end of Saab's show was so ornate and full the model struggled to walk down the catwalk, while peering out from behind her gilded veil.
"You must respect every woman and what she likes. We must respect her opinion," said Saab after the show.
(By Nina Sovich and editing by Paul Casciato)
© Thomson Reuters 2023 All rights reserved.