Paris shoppers ready to pounce on big discounts
By Astrid Wendlandt and James Regan
PARIS, Jan 6 (Reuters) - Shoppers are set to storm Paris streets on Wednesday for the start of the winter sales, with department stores such as Printemps slashing prices by up to 80 percent to offload stock after grim Christmas trading.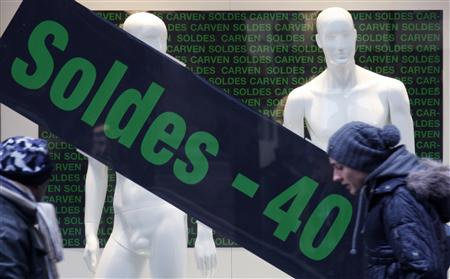 Photo : Reuters
It will follow similar stampedes in London, New York and other shopping capitals where customers have been lured in by cash-hungry retailers offering steep discounts. "We are expecting to see the biggest discounts in years," said Lucien Odier, chairman of the French Apparel Retail Association whose members account for 40 percent of apparel and lingerie sales in France or 16 billion euros ($21.6 billion) a year.
"Shoppers know these big sales are coming, they have been waiting for them. I have seen many women preparing, taking notes. So I am optimistic about the outcome," said Odier, who represents brands such as H&M, Zara, Caroll, Naf Naf, Kookai, Etam and Celine.
Paris department stores Bon Marche, Galeries Lafayette and Printemps will open at 0700 GMT on Wednesday, close late and extend their trading hours through Saturday.
Staff at Printemps are bracing for more than 100,000 customers on Wednesday, store head Pierre Pelarrey told Reuters, adding he expected the sales to beat revenue taken in 2008.
"It's the biggest day of the year," Pelarrey said.
French Economy Minister Christine Lagarde said on Tuesday that early winter sales in the east of France had gone well.
Christophe Cann, head of sales at tourist magnet Galeries Lafayette said discounts would range between 30 and 50 percent as usual.
Printemps, which suffered trading disruptions due to a mid-December bomb scare, will offer up to 80 percent off, mainly on women's apparel, because of large stocks, a spokeswoman said.
French consumer confidence sank in December as households worried the sluggish economy would lead to a jump in unemployment and hurt personal finances, national statistics office INSEE said on Tuesday.
The DJ Stoxx Retail Index .SXRP fell 44 percent in 2008.
INTERNET SHOPPING
Early data showed retail trading in France was exceptionally bleak in December, usually the strongest month of the year.
Cann said total revenue from Galeries Lafayette outlets fell 2 percent in December year-on-year. Printemps's Pelarrey said the store saw sales dip slightly in December after rising in November.
Apparel and lingerie sales in France fell 3-5 percent in December, the French Apparel Retail Association said.
Retail and luxury analysts expect the winter sales to take a serious toll on margins and are wondering what will drive volumes once the sales season is over.
"We are expecting bigger discounts than before which will generate volume but which will also inevitably hit margins," Boris Bourdet, an analyst at broker Natixis in Paris, said.
Consultants Benchmark Group expect winter sales on the Internet to rise 15 percent as shoppers avoid having to elbow their way through shops.
Winter sales in France will last five weeks this year as opposed to six last year. During this period, retailers are allowed to sell at a loss to reduce their inventories.
Luxury brands, which have not been spared by the downturn, are also planning significant discounts.
Gucci (PRTP.PA) will lop 50 percent off its autumn/winter ready-to-wear collection and on a selection of accessories starting on Wednesday.
Yves Saint Laurent (PRTP.PA) will offer 50 percent discounts on its fall/winter collection including accessories.
But top luxury brands Louis Vuitton and Hermes (HRMS.PA) will behave differently, as they traditionally do.
Louis Vuitton said it would not hold sales at all, while Hermes would have winter sales at its Paris shops only on Jan. 28-31, in Marseille on Jan. 14-16 and in Toulouse on Jan. 10. (Additional reporting by Noelle Mennella, Clement Dossin and Pascale Denis, Editing by Dan Lalor) ($1 = 0.7416 euro)
© Thomson Reuters 2023 All rights reserved.