Plus-size professional outfits for travel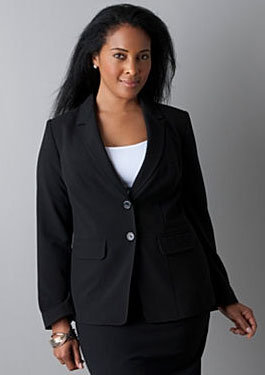 Lane Bryant
Last week, I heard from a reader who needs some help finding a great suit for travel. I travel a lot for work to developing countries from Washington DC which means at least 20+ in transit. I'm having a hard time finding structured work clothes that don't wrinkle and are washable. I'm trying to avoid the "consultant/professor" look–I despair of seeing
Chicos
, JJill,
Eileen Fisher
, etc. worn with big ethnic jewelry. Also, I'm plus-sized, so that also limits my options. Any suggestions?
The first thing I did was search my favorite sites.
Nordstrom
,
Bloomingdale's
,
Banana Republic
, etc. Unfortunately the cute suits were few and far between, and Banana Republic doesn't have plus sizes at all. After a few hours, I put together a list of options. I am not super happy with all that I've found so far, so I am definitely going to keep looking.
Anytime you are looking for travel clothes, the description should say "wrinkle free", " resists wrinkles", or something like that. Also, if it is made with Spandex, the chances of it wrinkling go down.
I lovethis outfitfrom
Lane Bryant
. It's up a step from business casual since it's separates, but not quite a suit. It's adorable though, and I love the pop of pink combined with the graphic houndstooth. Lane Bryant also has some great workdresses, for reasonable prices.
Thesepantsfrom Bloomingdale's are classic, well cut, and tweed. No matching jacket, but fabulous pants.
The Talbots site has several plus size options, and for travel I would recommend something from theStretch Flannelor theCompact Crepeslines. They also have several colorful shells and blouses for under suits, like this floral one.
At Nordstrom, I had more success. I lovethis jacket, but no matching pants. (This is the third thing I have found that I like that is tweed. Maybe I am having a tweed fetish right now?) I do like this suit, both the jacketand thepants, and I think with a cute patterned top underneath you could avoid the need for big ethnic jewelry. I likethis one–color and pattern without being overwhelming.
Finally, at a lower price-point,
Old Navy
has some classic cuts and bright blouses that work for a budget.Pants,jacket, and acute printed toplook great and are easy on the wallet.
© Thomson Reuters 2023 All rights reserved.