Polo profit strong, raises revenue outlook
DETROIT, Nov 10 (Reuters) - Polo Ralph Lauren Corp (RL.N) reported a higher-than-expected quarterly profit on Wednesday and again raised its full-year sales outlook due to strong demand globally, sending its shares to an all-time high.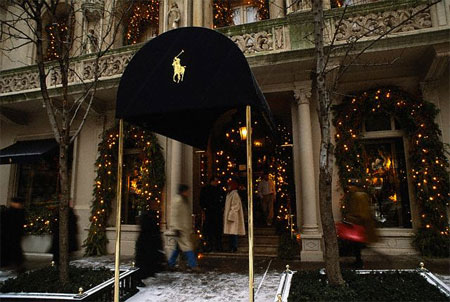 Polo Ralph Lauren, Manhattan
The clothing company, whose brands include Polo and Chaps, has benefited from rebounding demand for luxury items, as well as strong sales overseas and at its lower-priced Club Monaco chain. Morningstar analyst Peter Wahlstrom said Polo's results were strong across the board and it managed expenses very well. [ID:nN28193195]
"We're seeing the luxury consumer still spend pretty nicely and there's still strength in Europe," he said. "A lot of these stocks have run up based on that and expectations for Asia growth, but (Polo) was very, very solid execution in this quarter."
Gross profit margin rose 90 basis points to 58 percent on gains in the retail segment, especially in international markets. However, the company said rising labor, raw material and transportation costs would result in year-over-year declines in the third and fourth quarters.
Polo now expects fiscal 2011 sales to rise by a low double-digit percentage rate, up from its previous forecast for an increase in the mid-to-high single digits. It raised that outlook in August when it reported first-quarter results.
For the third quarter, Polo expects consolidated revenue to rise at a high-teens percent rate, with wholesale revenue increasing in the mid-teens and same-store sales in the mid-single digits.
Analysts were expecting revenue of $5.36 billion for the year and $1.35 billion for the third quarter.
The company also said it intends to launch a dedicated Club Monaco online shopping site in August 2011.
Polo's shares rose 7.98 percent to an all-time high of $108.98 in late morning trading on the New York Stock Exchange. (Reporting by Ben Klayman in Detroit; additional reporting by Phil Wahba in New York; editing by Gerald E. McCormick and Maureen Bavdek)
Through Tuesday, Polo's shares had risen more than 40 percent since hitting a year's low in early July, and company executives sounded a note of optimism heading into the holiday shopping season.
"While we are still operating in the context of considerable macroeconomic and geopolitical uncertainty, and we expect to encounter more intense sourcing cost and exchange rate headwinds in the back half of the year, we are encouraged by our current business momentum heading into the holiday season," Polo President Roger Farah said.
Polo's net income rose 16 percent to $205.2 million, or $2.09 per share, in the second quarter that ended Oct. 2, from $177.5 million, or $1.75 per share, a year earlier. That easily topped the $1.71 analysts polled by Thomson Reuters I/B/E/S were expecting.
"We were braced for a particularly robust quarter from Polo Ralph Lauren (and so was the market ... the stock is at a 52-week high)," Wall Street Strategies analyst Brian Sozzi said in a research note. "To put it simply, we were not disappointed."
The latest quarter is historically Polo's strongest in the wholesale segment as shipments are made ahead of the holiday season, and the company also saw an increased amount of full-price sales, he added.
Net revenue rose 11 percent to $1.53 billion, topping the $1.48 billion analysts had expected, due to global wholesale and retail demand.
Wholesale sales rose 8 percent on strength in the United States and Europe and in footwear and men's and women's apparel lines.
Retail sales jumped 17 percent. Sales at stores open at least a year rose 8 percent, with gains of 1 percent at Ralph Lauren, 8 percent at factory stores and 10 percent at the company's lower-priced Club Monaco chain.
© Thomson Reuters 2023 All rights reserved.