Prada4s $2.6 billion HK IPO values company above European peers
Jun 6 - Italian fashion house Prada could raise up to $2.6 billion in an initial public offering in Hong Kong, setting a valuation for the maker of Miu Miu dresses higher than its European peers.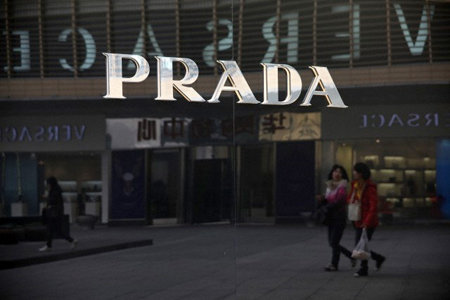 Two girls are reflected in a glass of a Prada store at department store Shin Kong Place in Beijing (Photo: Corbis)
Prada set an indicative price range of HK$36.5 to HK$48 a share for the IPO as it started meetings with Asian investors to gauge appetite for the deal, a source with direct knowledge of the plans told Reuters on Monday.
The IPO is being priced at 27 times projected 2011 earnings at the top end of the range, the source said, in a deal largely aimed at funding expansion and renovation in Prada's fastest-growing market of the Asia Pacific.
The source declined to be identified because the details have not been made public.
"Twenty-plus times PE looks expensive," said Peter Elston, strategist at Aberdeen Asset Management Asia. "But luxury goods companies such as Prada have got good, visible top-line growth for the next 20 years. There are high barriers to entry as you can't go out and create a luxury brand from nothing."
Prada, 95 percent owned by the families of Chief Executive Patrizio Bertelli and his fashion designer wife
Miuccia Prada
, has shelved plans to go public three times over the last decade.
It is betting on a boom in the consumption of luxury items in China, the world's second-largest economy, to lure investors to the IPO, the first for an Italian company in Hong Kong.
China will account for 20 percent of the global luxury market by 2015, with spending in the country nearly tripling to $27 billion by that year from around $10 billion in 2009, consulting firm McKinsey & Co says.
The IPO is slated to be priced on June 17 and the shares will start trading in Hong Kong on June 24 under the symbol "1913," the year the company was founded in Milan.
Prada and shareholders Prada Holding BV and Intesa Sanpaolo plan to sell 423.3 million shares, valuing the IPO at up to HK$20.32 billion ($2.6 billion).
About 14 percent of the shares will be sold in a primary offering with proceeds going to Prada, with the remainder of proceeds going to Prada Holding and Intesa Sanpaolo.
HIGHER VALUATION
A projected price-to-earnings ratio of 27 times compares with an average P/E of 26.2 times for Hong Kong-listed luxury goods companies such as luxury menswear operator
Trinity
Ltd and French skincare products retailer L'Occitane,
Goldman Sachs
Research estimates.
British luxury goods group Burberry, which is seeking a Hong Kong listing and is known for raincoats featuring its camel, red and black check pattern, trades at 21.4 times forecast 2011 earnings, while French luxury conglomerate
LVMH
trades at 17.3 times.
Prada's IPO comes as a rout in commodity prices and debt concerns in the euro zone have eroded investor risk appetite, pushing global markets off their multi-year highs in early May.
On Sunday, startup mining company Resourcehouse Ltd abandoned its fourth attempt to go public in Hong Kong, citing deteriorating market conditions, a statement on its website said.
GROWTH COMPANY
Prada started its business in 1913, when Mario Prada began selling leather bags, trunks and silverware to the European elite from his store in Milan's Galleria Vittorio Emanuele II.
The company has since expanded throughout Europe, the United States and Asia with a product range that includes clothes, mobile telephones, fragrances and eyewear.
Revenue for the year ended January 2011 jumped 31 percent to 2.05 billion euros and profit more than doubled to 253.6 million euros.
Prada said in a Hong Kong filing on Friday it expected half-year profit to rise 46 percent as it expands in fast-growing Asia.
The company plans to add a net total of about 80 directly operated stores by the end of January 2012, most of them in the Asia Pacific region, its fastest growing market.
Goldman Sachs, Credit Agricole's CLSA brokerage and Italian banks UniCredit SpA and Intesa Sanpaolo's Banca IMI unit, both on Prada's board, are joint bookrunners and global coordinators of the IPO.
By Elzio Barreto
(Additional reporting by Antonella Ciancio in Milan and Kevin Lim in Singapore; Editing by Vinu Pilakkott)
© Thomson Reuters 2023 All rights reserved.