Pretty fragrant: Sex Pistols unveil punk perfume
LONDON/PARIS (Billboard) - The Sex Pistols' latest attempt to get up people's noses comes in the form of their own branded perfume.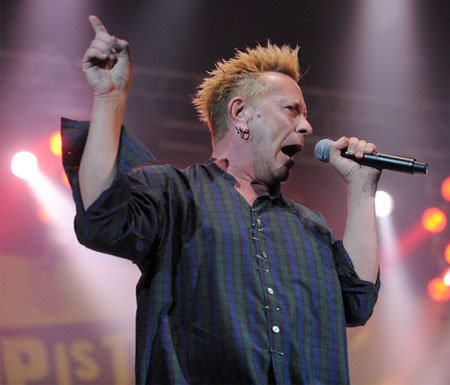 Johnny Rotten, Sex Pistols
Fragrance launches from music stars like Britney Spears, Sean "Diddy" Combs and Avril Lavigne have become commonplace, but it's still an eyebrow-raising move from the legendary punk band, which has been known for making cash from chaos, not from cologne.
The unisex scent, which comes in a tartan-topped bottle featuring the band's "God Save the Queen" imagery, is a collaboration with Paris-based perfume brand Etat Libre d'Orange, which licensed the Sex Pistols name from the band's merchandising partner, Live Nation Merchandise.
Etat Libre launched the perfume in France in mid-July through an exclusive deal with the
Sephora
chain of beauty shops, which has 150-plus stores across France. It retails for 40 euros ($51). The scent is expected to launch in the United States September 10, initially in the Henri Bendel store in New York.
Etat Libre CEO Etienne de Swardt says the company also hopes to launch a "Never Mind the Bollocks"-branded soap by year's end and a second Pistols-themed perfume in 2011, subject to the band's agreement.
The group declined requests for comment. But Michael Krassner, executive vice president of worldwide retail and licensing for Live Nation Merchandise, says frontman Johnny Rotten (aka John Lydon) and other band members are "closely involved" with all licensing decisions.
"They know who they are better than we do," Krassner says. "That's difficult (for us) in some respects, as opposed to someone who just approves everything."
Krassner says Pistols-branded merchandise has proved to be a consistent seller, despite lingering resistance from some retailers over the band's name. He cites its January 2010 partnership with skate-wear brand
Vans
on a Pistols-branded range of shoes, shirts and denim as helping the band reach a younger demographic.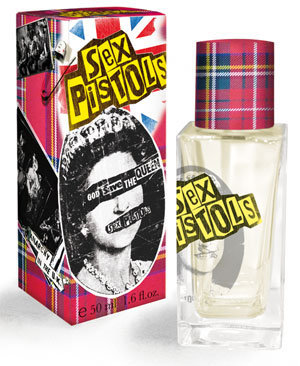 Sex Pistols Perfume
BUT WAIT, THERE'S MORE

The perfume will be far from the only quirky Pistols product on the market. Officially licensed alarm clocks, refrigerator magnets and removable laptop skins are already available, as is virtual Pistols merchandise for characters in the computer game "The Sims."
Many Pistols-branded products are produced by Bath, England-based Half Moon Bay, which says its top-selling Pistols item is a "Never Mind the Bollocks" coffee mug. "The fans are older now and might be less inclined to wear their heart on a sleeve with a T-shirt," Half Moon Bay entertainment brand product manager Rachel Carpenter says.
Krassner says opening up new merchandise revenue streams has become particularly important for heritage acts, as income from recorded-music sales continues to shrink. The Sex Pistols have sold 1.2 million albums in the United States since 1991, according to Nielsen SoundScan, but they've moved just 13,000 albums year to date, compared with 27,000 in full-year 2009 and 35,000 in full-year 2008 (when the band last re-formed for live shows).
Meanwhile, Rotten has proved to be a surprisingly marketable commodity for a man who was once the scourge of proper British society. Butter brand Country Life credited the punk rocker with driving an 85 percent increase in sales in fourth-quarter 2008 when he first appeared in TV spots for the product.
Still, the perfume launch could have a "negative impact on the Pistols' cultural currency," says Snowy Hanbury, joint head of planning at advertising/creative agency Anomaly London, which worked on the recent deal between British band Kasabian and sports brand
Umbro
for the World Cup.
"The Sex Pistols brand has no tenable association to fragrance," Hanbury says. "As with any brand or celebrity partnership, it's all about relevance and understanding your audience -- I cannot see who the audience is here."
But Half Moon Bay's Carpenter denies that the growing list of Pistols paraphernalia risks creating a stink with the band's fan base.
"Bands are a commercial venture, and licensing is just another extension of that," she says. "With the Sex Pistols, they're doing TV commercials for butter, so I don't really think a mug is selling out."
© Thomson Reuters 2023 All rights reserved.