Producer prices tame but gain in core vexes
By Alister Bull
WASHINGTON (Reuters) - Producer prices excluding energy and food rose at the fastest pace since 1991 in the year through April, highlighting inflation concerns that could limit the Federal Reserve's options in shoring up a weak economy.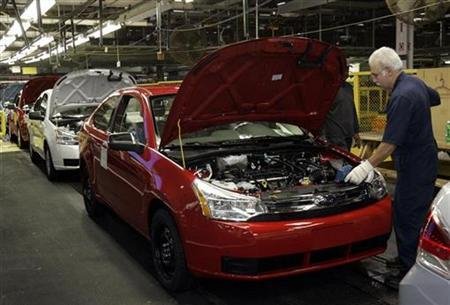 The U.S. central bank has been counting on slower growth to prevent soaring energy and food prices from spilling into wider inflation, but the data on Tuesday on prices paid at the farm and factory gate suggested that battle has yet to be won.
The Labor Department said the producer price index rose 0.2 percent last month as food prices took a respite from their march upward and as gasoline costs, which usually climb sharply in April, fell after adjustment for seasonal swings.
However, core producer prices, which strip out volatile energy and food costs, increased by 0.4 percent -- twice the rate forecast on Wall Street.
Over the past 12 months, core prices rose 3 percent, the largest gain since December 1991. Overall producer prices were up an even-stiffer 6.5 percent.
U.S. stock prices fell as investors, already alarmed by a fresh record oil price notched on Tuesday above $129 per barrel, took further fright over the high core price gauge.
"Nothing here bodes well for consumers," said Joel Naroff, president at Naroff Economic Advisors in Holland, Pennsylvania.
"It's putting more pressure on businesses to raise their costs. This is problematic in an economic slowdown we are in right now. This will have a more negative news for earnings and inflation," he said.
Soaring energy costs have buoyed producer prices and spilled into broader measures of inflation in a worrying fashion for the Fed, which has slashed interest rates by 3.25 percentage points since mid-September to buffer the economy from the housing crisis and credit crunch.
Fed Vice Chairman Donald Kohn said in a speech in New Orleans that rising inflation expectations were a concern but the economy was still dogged by a housing slump, creating a high level of uncertainty that demands policy flexibility.
The Fed is widely expected to hold rates steady at its next meeting in late June, but financial markets see some chance policy-makers will push borrowing costs higher by year end.
BUOYED
The rise in the core index reflected increases in a broad range of costs, including higher auto prices.
Gasoline prices fell 4.6 percent, but they were up 23 percent over the past year. Seasonal factors aided the April drop and economists warned it would prove temporary.
While food prices were unchanged, the price of rice jumped by 17.4 percent, the largest rise since 1993.
The report also suggested price pressures further back in the chain of production, with core crude goods up 7.9 percent in April.
"Perhaps the most disturbing aspect of the PPI report was the surge in pipeline costs," said Stephen Stanley, chief economist at RBS Greenwich Capital.
Other data on Tuesday showed consumers feeling the pinch of record gasoline prices with one measure of chain store sales recording its third straight week of declines.
Target Corp , the No. 2 U.S. discount chain store, reported lower quarterly profits as customers cut back on clothes and jewelry in favor of basics like food. Home Depot's quarterly profit fell 66 percent as housing woes hurt sales.
A report from the Chicago Federal Reserve Bank showed economic activity was weaker in April across a range of sectors. The Chicago Fed's National Activity Index, compiled from an array of economic data, moved down to -1.17 from -0.98 in March.
A three-month moving average of the index tumbled to its lowest level since November 2001, when the United States emerged from its last recession, and showed the economy could be contracting for a fifth straight month.
(Additional reporting by Ros Krasny in Chicago, Ellen Frielich and Richard Leong in New York; Editing by Andrea Ricci)
© Thomson Reuters 2023 All rights reserved.