Profit slips at global supply chain manager Li & Fung
Supply chain manager Li & Fung Ltd, whose global distribution and trading centres make it a useful barometer of consumer sentiment, said half-year core operating profit fell by more than a fifth due to a slower-than-expected turnaround of its U.S operations and weak demand in Europe.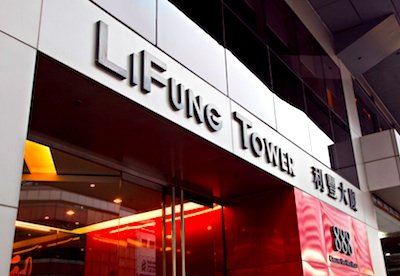 LiFung Tower, Hong Kong Headquarters
The Hong Kong-based group, which manages supply chains for major retailers such as
Wal-Mart
Stores Inc and
Target
Corp, said, however, that net profit rose by a third as it booked write-backs on two 2010 acquisitions.
"The operating profit was disappointing. The market didn't expect (it) would be that weak," said Linus Yip, chief strategist at First Shanghai Securities. "It missed expectations and that's likely to put pressure on the stock price."
Analysts had predicted healthy top-line growth at Li & Fung this year with U.S. retailers re-stocking to meet improving consumer confidence, but spending by consumers fell in June for the first time in nearly a year.
Li & Fung, whose sister unit
Trinity
owns bespoke
Savile Row
tailor Kent & Curwen, which has kitted out Hong Kong's Olympic team, said it signed a deal with Target Australia for several hundred million dollars, and has resources for acquisitions up to $1 billion.
"We will look for acquisitions in beauty and cosmetics. Since Asia is a growing market for us, we are also looking for acquisitions in Asia-related assets," Chairman William Fung told a press briefing on Thursday.
U.S. ELECTION BOOST?
The company gave little insight into the outlook for demand, saying only it expects the U.S. market to improve after November's presidential election.
January-June net profit rose to US$312 million from a restated $235.5 million a year ago, beating an average forecast for $272.4 million from five analysts polled by Thomson Reuters. Li & Fung reports every six months in U.S. dollars.
Core operating profit fell 22 percent to $221 million, weighed down by a weak performance at its LF USA unit.
The company, valued at $16.7 billion, was founded early last century as a trader in porcelain, jade and silk. It now provides one-stop supply chain management - from product design, raw material sourcing and manufacturing to shipping and wholesale.
It is halfway through an ambitious 3-year growth plan and aims to expand its sourcing network to generate higher profits under the watch of Fung and president/CEO Bruce Rockowitz, who last year married pop diva Coco Lee at a star-studded ceremony attended by Oprah Winfrey and
Jennifer Lopez
.
In a statement, the company said that while core operating profit was relatively weak, the group was "very focused on taking the necessary steps to improve the second-half results and set the stage for 2013, the last year of its current three-year plan."
The U.S. remains the key export market, representing 62 percent of turnover, with Europe dipping to 18 percent and Asia increasing to 13 percent.
In a further sign that a weakening global economy is hurting discretionary spending, denting hopes of a U.S. recovery, McDonald's Corp on Wednesday reported its worst sales performance in more than nine years.
Li & Fung said in May that its orders had not been affected by a slowing China economy, and it expected China to remain its main sourcing market over the next three years.
January-June core operating profit margin at Li & Fung, which employs more than 28,000 staff worldwide and has a sourcing network of over 15,000 suppliers, fell to 2.4 percent from 3.2 percent.

EARNINGS REVISED
Analysts have revised down their full-year Li & Fung earnings estimates on concern that high operating costs will keep margin growth in check. They say Li & Fung will have to rely on acquisitions to meet its targeted core operating profit of $1.5 billion in 2013.
The company said it signed four acquisitions for its trading network this year and six licensing deals.
It is seen as a potential bidder for Los Angeles-based
J Brand
, a women's apparel maker which hired
Morgan Stanley
to help it explore its strategic options, including a sale or an initial public offering.
Last month, analysts at Citi raised longer-term concerns over Li & Fung losing customers after U.S. clients such as children's clothing firm Carter's Inc and
Gymboree
Corp moved towards direct sourcing.
Li & Fung shares have risen around 17 percent since hitting a 9-month low late last month. The stock ended up 3.1 percent at a 13-week closing high of HK$15.98 ahead of the results on Thursday.
© Thomson Reuters 2023 All rights reserved.