Queen Elizabeth a typical woman who chats about make-up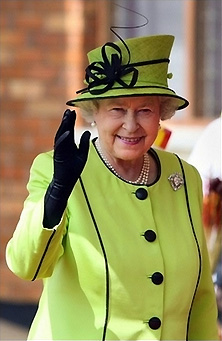 Queen Elizabeth II - Photo : Jon Hrusa/AFP
LONDON, Dec 9, 2007 (AFP) - Queen Elizabeth II's personal assistant said the British monarch was a typical woman who nattered about clothes, make-up and jewellery, in an interview in The Sunday Telegraph newspaper.
Angela Kelly, the queen's "gatekeeper" for the past six years, said the 81-year-old was a great mimic with a sharp sense of humour, in a rare insight into the sovereign's personal relationships.
Queen Elizabeth and Kelly, a 55-year-old Catholic divorcee born in a public housing estate in Liverpool, north-west England, have struck up a close connection since Kelly began working as one of the queen's dressers in 1993.
Speaking with the queen's permission for the first time about her role, Kelly said the pair discuss "anything and everything" from their grandchildren to ballgowns.
Queen Elizabeth recently told Kelly: "You and I do work well together. I think we are a good team," she recounted.
"I love the queen and everything about her.
"I adore her -- but then, so does everyone else. She is not 'my' queen, she is everyone's and so I have to share her.
"I do worry about her and care about her. But we also have a lot of fun together. The queen has a wicked sense of humour and is a great mimic. She can do all accents -- including mine," said Kelly, who has not lost her Beatles-like Liverpudlian accent.
They call each other "Your Majesty" and "Angela".
Kelly, who sees Queen Elizabeth almost every day, is one of the few people -- other than the royal family -- who can put their hands on the sovereign.
"I just want everything to be right for the queen -- to make life easier for her because she is so busy. My job is to ensure that when the queen meets people she looks right," Kelly said.
"I don't know why the queen seems fond of me -- because I don't give her an easy time! I do think she values my opinion, but she is the one who is in control. She always makes the final decision.
"We are two typical women. We discuss clothes, make-up, jewellery. We say, 'Would this piece of jewellery look nice with that outfit?' and things like that.
"The queen loves clothes and is a real expert on fabrics. It has not been a question of me teaching the queen -- it has been the other way around."
Kelly said Queen Elizabeth treats her staff with "real respect," but she would never presume to "overstep the mark".
"If she wants to talk about matters of the heart, she speaks to her family. It's just a working relationship -- but a close one," she said.
"I know my place. I would never discuss affairs of state with the queen. That's for (her husband) Prince Philip, her private secretary and her senior advisers. I come from a humble background and I like to think I have stayed humble."
Kelly added: "If I died tomorrow, my girls have been trained to make sure that the queen's life carries on smoothly without me. But I hope the queen and I grow old together."
Copyright © 2023 AFP. All rights reserved. All information displayed in this section (dispatches, photographs, logos) are protected by intellectual property rights owned by Agence France-Presse. As a consequence you may not copy, reproduce, modify, transmit, publish, display or in any way commercially exploit any of the contents of this section without the prior written consent of Agence France-Presses.