Recycled clothing common during recession
By Martinne Geller
NEW YORK (Reuters) - Last year at this time, Kathy Johnson and her husband travelled to London and Paris, where she spent about $2,000 (1,288 pounds) on a shiny, red Louis Vuitton shoulder bag and a matching charm without much thought.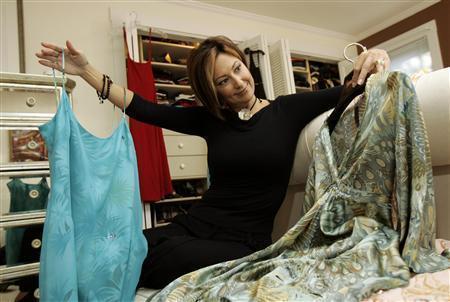 This year Johnson, who runs a tech advisory firm with her husband in the San Francisco Bay area, is recycling older dresses to save money.
"I'm thinking 'Maybe I'll just sneak in last year's dress and nobody will notice,' and I'll just accessorize it a bit differently," said Johnson, who expects to attend several holiday parties this year.
"I try to make it a little more about what I need on an everyday basis, rather than spending a bunch of money on something I'll just wear once or twice," she said.
Johnson's logic is likely to be played out across the country this season as U.S. consumers cut spending amid the worst financial crisis since the Great Depression.
That is terrible news to department stores, boutiques and apparel makers, who tend to get a boost when the fashion-conscious splurge on clothes for office holiday parties and New Year's festivities.
U.S. retail chains just posted the worst October sales results in more than three decades, prompting the International Council of Shopping Centers to pare its already grim forecast for holiday season sales. It now expects November-December sales to rise 1 percent, from a prior view of 1.7 percent.
What is more, a recent survey by executive search firm Battalia Winston Amrop found that one-fifth of U.S. businesses are not having 2008 holiday parties, effectively passing out pink slips to women's "little black dresses."
That could hurt department stores like Nordstrom and Macy's , already struggling with sharp monthly sales declines, as well as women's apparel stores like AnnTaylor Stores , Talbots and Chico's FAS , which owns the White House Black Market chain in addition to its namesake stores.
"I think (consumers) are going to be very loath to buy anything," said Wendy Liebmann, chief executive of consulting firm WSL Strategic Retail, which researches shopping trends.
As for herself, Liebmann guessed that she will feel the need to be festive during this gloomy holiday season.
"But I know there's a very wonderful corner of a very wonderful closet of mine, which has absolutely fabulous stuff in it that I haven't worn for some time. So I know I will be shopping in that corner."
"But if (people) do feel they need an affordable little treat ... there are a lot of places women feel very comfortable buying used, pre-owned or excess inventory products."
According to her most recent poll, about 51 percent of women had bought second-hand clothes, and Liebmann expects that to increase as times get tougher and more people realize that some used clothing stores sell vintage designer dresses.
TJX Cos , an off-price retailer that buys excess merchandise at below wholesale prices, has outperformed in recent months as shoppers look for bargains at its TJ Maxx and Marshalls stores.
"We often talk about the resiliency of our off-price business model, and we are seeing that resiliency benefiting us in this difficult consumer environment," said TJX CEO Carol Meyrowitz in a statement last week.
LIFE GOES ON
A spokeswoman for Goodwill Industries International, which operates more than 2,000 second-hand stores across the U.S., said sales have increased nearly 7 percent over the first nine months of the year. More specifically, she said store managers in New York City -- the epicentre of the Wall Street meltdown -- were noticing new faces in their shoppers' midst lately.
Another discount avenue that is growing in popularity is sample sales, where fashion companies aim to unload excess goods at deep discounts. They have traditionally been held in cities like New York or Los Angeles, but a number of companies have emerged that now do the same thing online.
Top Button is one such company, which said it is getting a boost as fashionistas become more bargain-conscious and the credit crisis forces some fashion brands out of business.
"We haven't seen a decrease in shopping," said Top Button co-founder Michael Feldman. "If anything, it's been a lot more." The company's original site TopButton.com has information about actual sample sales while a newer site, TopSecret.com, holds virtual sample sales.
A recent event featured Andrew Marc coats at 65 percent off retail. Feldman said they sold 1,200 pieces in five hours.
"People still have to go to parties. They may change their shopping habits ... but life doesn't stop," Feldman said.
That sentiment is being shared by executives at Ann Taylor, which usually sells many special occasion items like dresses, cashmere sweaters and party tops during November and December.
"Even in these challenging times, we still believe there will be parties, although they may take on a slightly different tone," said spokeswoman Maria Sceppaguercio.
For Laurice Rahme, founder and chief executive of boutique perfume-maker Bond No. 9, there may be fewer party invitations this year, but no drop off in shopping, especially when it comes to her favourite designer, Marc Jacobs.
"It just happened that his collection is terrific this year. I just have to have one (item from it)," Rahme said.
(Reporting by Martinne Geller; Additional reporting by Aarthi Sivaraman; Editing by Michele Gershberg and Eddie Evans)
(See here for "Shop Talk" -- Reuters' retail and consumer blog.)
© Thomson Reuters 2023 All rights reserved.