Rent the Runway gets $15 million from KPCB
May 23 - Silicon Valley venture capital firm Kleiner Perkins Caufield & Byers is putting $15 million into the luxury-for-a-night market, investing in designer gown rental service Rent the Runway.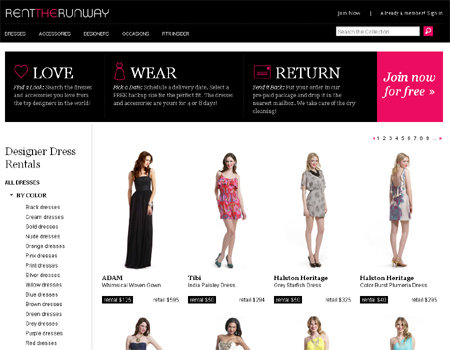 Rent the Runway website shows the rental price next to the retail one for each of its hundreds of dresses and accessories
The online service, called "the Netflix of haute couture" in the fashion industry, said it will use the money to expand its selection of dresses and invest in its inventory and reservation system.
Rent the Runway, founded in 2009 by Harvard University classmates Jennifer Hyman and Jenny Fleiss, lets members rent a dress from top-name designers such as Diane Von Furstenberg and
Helmut Lang
for about one-tenth of the retail cost.
The company is on track to more than triple 2010's revenues to $20 million this year and maintain that pace of growth next year, Hyman and Fleiss said at the Reuters Global Luxury and Fashion Summit in New York.
Much of the growing demand they see has to do with the proliferation of social media, which has heightened the danger for a woman of being discovered committing the fashion faux pas of wearing the same dress twice.
"That social pressure exists whether you shop at Barneys or T.J. Maxx," said Hyman, the company's CEO. "They're now mini-celebrities, and Facebook now opened up their world so that they can't repeat outfits as much."
Rent the Runway offers same-day delivery in New York City and will start opening warehouses in other cities in January 2012.
The company said it now has 1 million members, up from 750,000 last year. Users rent a dress or accessories for four to eight days in two sizes and make returns by mail using prepaid packaging.
Aileen Lee, a Kleiner Perkins partner, is joining the Rent the Runway board, the company said on Monday. Kleiner Perkins' past investments include Amazon.com Inc (AMZN.O) and Google Inc (GOOG.O).
Rent the Runway's first funding was a $16 million investment from Bain Capital Ventures and Highland Capital in 2009.
NO FURTHER VC SEEN
Much of the new funding will go to upgrading the company's technology so it can handle a growing volume of orders and reduce the risk of a disappointing experience for its customers, such as receiving a dress for an event -- a prom, a best friend's wedding or even a Kentucky Derby party -- a day too late.
Such a mishap can cost Rent the Runway a customer for life, the founders said.
The company will also use the money to hire up to 25 more people for its operations team this year.
Hyman and Fleiss said they did not expect to tap KPCB for further venture capital funding, and would turn instead to debt financing.
Rent the Runway plans to add about 20 designers to its roster of 120 and offer less expensive gowns. The new lines include Z Spoke by Zac Posen and creations by Narciso Rodriguez.
The company currently has 25,000 dresses for rent but does not offer shoes and does not plan to do so yet. But Fleiss said, "Nothing is off the table."
Fleiss and Hyman said Rent the Runway was attractive to designers because women who can't yet afford a top designer can get a taste for top brands and perhaps become designers' clients when they are older and more affluent.
Hyman also said Rent the Runway allows women to rent wilder, more time-sensitive fashions, but buy only those gowns that will stand the test of time.
"People need to start thinking about accumulating luxury items as a lifelong pursuit, building aspects of a wardrobe," she said.
(Reporting by Phil Wahba, additional reporting by Dhanya Skariachan; Editing by John Wallace)
Tweet this
Link this
Share this
Digg this
Email
Reprints
© Thomson Reuters 2023 All rights reserved.