Retail sales resilient in final holiday stretch
Retail sales look poised for a solid finish to the holiday season as warm weather and deep discounts encouraged shoppers to hit stores or go online to snap up last-minute gifts, according to data released on Wednesday.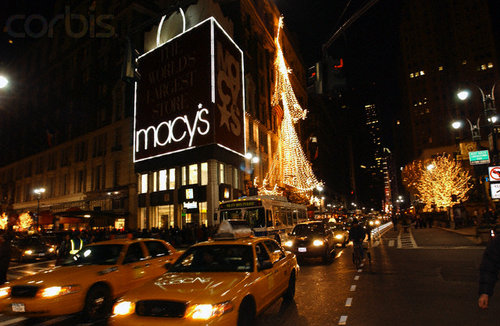 Macy's, Photo: Corbis
Sales in the week ending December 24 soared 14.8 percent from a year ago to about $44 billion, helped by Christmas Eve falling on a Saturday, according to ShopperTrak, which monitors traffic at shopping malls. Good weather also helped as snowstorms had blanketed some areas at the same time last year.
Sales on December 26, a public holiday this year, soared 25.5 percent to $7.1 billion, ShopperTrak said.
Steep discounts were prevalent throughout the season and drove the sales growth, but could crimp retailers' profits.
"The real issue is, what margins were those sales generated at because it was a very heavily promotional season," said Al Ferrara, director of BDO USA's national retail practice. "The retailers, to capture market share, were obviously marking down very heavily."
Amid concerns about profit margins, the latest data had little impact on retail stocks with the S&P Retail index ending down 1.05 percent, only slightly better than the 1.25 percent drop in the broader S&P 500 index.
Sales at stores in the week ending December 24 soared 37.8 percent from sales in the week ending December 17, ShopperTrak said, suggesting procrastinators were drawn in by offers.
"Consumers are willing to get up and go out there if they feel like they're going to get some value for their dollars," ShopperTrak Founder Bill Martin told Reuters.
Besides ShopperTrak, two other sets of data indicated solid sales last week. The ICSC/Goldman Sachs weekly chain store sales index rose 4.5 percent during the week ending December 24, versus a holiday-shortened pre-Christmas Day week in 2010. Redbook Research put the year-over-year gain at 4.3 percent.
Adjusted for the calendar mismatch, the ICSC/Goldman index rose 0.9 percent for the week ending December 24, compared with the prior week.
"The finish is solid and the season itself was good," said ICSC Chief Economist Michael Niemira. "November was on the soft side but December will be better."
December sales so far are up 4.7 percent, while November sales rose 4.1 percent, ShopperTrak's Martin said.
ShopperTrak predicted in mid-December that sales for the two months combined would rise 3.7 percent, while the National Retail Federation expects a rise of 3.8 percent and the International Council of Shopping Centers is looking for a 3.5 percent increase.


Analysts previously said they expect Macy's and Wal-Mart Stores Inc to be among the big winners this holiday season as they had the right level of promotions for their shoppers, while Gap Inc and Abercrombie & Fitch Co may have missed the mark.
Visits to stores rose 6.5 percent in the week ending December 26, according to the NPD Group, a market research firm. The conversion rate, which measures the proportion of shoppers making a purchase, was 67.9 percent. That was down slightly from the previous week, but ahead of the first part of December, NPD data show.
"Major players, such as Macy's, are fine," Niemira added. "Specialty stores are likely to be more uneven. Specialty apparel seems to have been hit by abnormally warm weather. Sales were on the slow side and there has been more discounting consequently."
The biggest shopping malls and regional malls saw the strongest customer traffic since the first week of 2011. Factory outlets remained busy, but less so than the prior week, he said.
THE RISE OF ECONOMY AND E-COMMERCE
Wednesday's retail data points underscore recent economic data that show the U.S. economy is in recovery mode, albeit slowly. U.S. consumer confidence rose more than expected in December, hitting an eight-month high, as Americans grew more upbeat about the labor market and their financial situation, the Conference Board said on Tuesday.
That followed a report early in December showing U.S. unemployment at the lowest level since March 2009.
However, U.S. house prices are still falling, tempering economic optimism, and some retailers, such as Sears Holdings Corp, are suffering.
Part of the problem for chains such as Sears and the now-shuttered Borders Group may be competition with online retailers, who saw faster sales growth this holiday season, suggesting e-commerce took market share from brick-and-mortar stores.
Online sales, still a small component of overall sales, continued to grow at a faster clip than sales in stores, according to comScore data on Wednesday.
Online spending in the United States reached a record $35.27 billion from November 1 through December 26, up 15 percent versus the corresponding period last year, comScore reported.
For the week ending December 25, consumers spent $2.83 billion online, up 16 percent from the corresponding period in 2010, comScore also said.
"E-commerce is going to be awesome this holiday and retail will be mediocre," said Michael Rubin, head of Kynetic, which owns online retail businesses Fanatics, Rue La La and ShopRunner.
(Reporting by Alistair Barr in San Francisco and Jessica Wohl in Chicago, additional reporting by Phil Wahba in New York; editing by Matthew Lewis, Phil Berlowitz)
© Thomson Reuters 2023 All rights reserved.