Retail sales show fastest rise since '06
LONDON (Reuters) - Retail sales rose at their fastest rate in three years in April, a survey showed on Tuesday 12 May, but experts cautioned that the figures were flattered by the timing of Easter.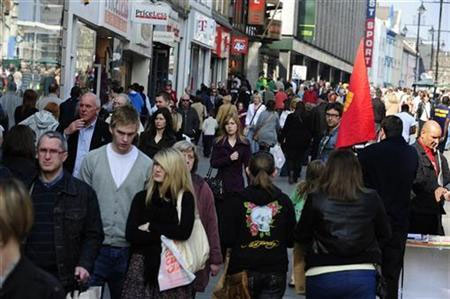 Shoppers on Northumberland Street in Newcastle-upon-Tyne - Photo: REUTERS/Nigel Roddis
There were also tentative signs of an improvement in the housing market where prices in England and Wales fell at their slowest pace in 15 months in the three months to April. New buyer enquiries rose at their fastest pace in a decade, a survey indicated on Tuesday.
The data helped to push the pound up 0.3 percent to $1.5182, edging towards a 4-month peak set last Friday.
The British Retail Consortium said like-for-like sales on the high street jumped 4.6 percent in April compared with the same month a year ago, following a 1.2 percent drop in March.
Total sales, which include new floorspace, rose 6.3 percent on the year, after a 0.6 percent increase in March.
Both April measures were the highest since April 2006.
However, comparisons were difficult to make because Easter fell in April this year but in March last year and there was better weather last month than a year ago.
"A sunny Easter that fell in April this year is the key reason why overall sales are up compared with last year when Easter was in March and miserable," said BRC Director General Stephen Robertson.
Easter can deliver a huge boost to retailers and the BRC figures echo a survey by the Confederation of British Industry, last month which was also unexpectedly strong.
It is unlikely that consumer spending is yet on the road to recovery as Britain faces its worst downturn in more than 60 years. Rising unemployment, weak pay growth and falling property values will also put people off splashing out.
"There's no reason to think customers suddenly feel flush or eager to spend. With unemployment set to grow through the rest of the year, mounting jobs worries will hold back spending for some time ... we shouldn't celebrate yet," Robertson said.
In the housing market, the Royal Institution of Chartered Surveyors' monthly house price balance picked up to -59.9 last month, its best showing since January last year, from -72.1 in March. Analysts had forecast a reading of -70.
The balance represents the difference between the percentage of surveyors reporting rising and falling house prices.
New buyer enquiries rose for a sixth consecutive month and at their fastest pace since August 1999, RICS said.
However, industry experts cautioned against reading too much into the data.
"There are tentative signs that the market is starting to pick up but transactions remain at very low levels and we are unlikely to see significant improvement while money remains in short supply and the employment picture is uncertain," said RICS spokesperson Jeremy Leaf.
The findings tally with recent surveys from mortgage lenders suggesting that housing market activity has picked up from last year's record low and prices are falling more slowly.
(Reporting by Fiona Shaikh and Christina Fincher; Editing by Andy Bruce)
© Thomson Reuters 2023 All rights reserved.