Retailer Jaeger sees growth in Middle East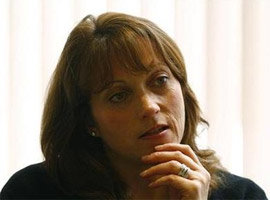 Jaeger CEO Belinda Earl speaks during an interview with Reuters in central London February 5, 2008 - Photo : Alessia Pierdomenico/Reuters
LONDON (Reuters) - Fashion retailer Jaeger is determined to trounce an economic downturn in the United States by dressing women elegantly and expanding operations in the Middle East and Australia.
The 125-year-old brand showed its Jeager London Autumn/Winter 2009 women's collection at fashion week in the British capital on Sunday evening.
"We're pleased with how we're trading, given the current environment," Chief Executive Belinda Earl told Reuters after the show. "We're not immune, but we're pleased."
Once synonymous with classic English tailoring, Jaeger was purchased by entrepreneur Harold Tillman in 2003.
Earl, previously chief executive of department store Debenhams, was hired the following year and oversaw transformation of the company's image to one of eclectic style.
"We're actually seeing growth in other markets. But America is quite limited at the moment," said Earl, wearing a black-silk v-necked dress. She declined to place a figure on U.S. sales.
Jaeger has an arrangement with U.S. luxury retailer Saks Fifth Avenue that allows the U.S. department store to buy wholesale. The chain's parent company Saks said in January it was cutting its workforce by 9 percent.
"It's not a lot happening there at the moment, because of really the difficulties they're finding in the U.S," she said.
Earl said accessories sales were holding up particularly well and that sterling's fall against both the euro and the dollar was giving Jaeger a boost. The company has 141 stores in Europe.
"We're seeing a lot of European tourists in our stores in London. A lot of French here, a lot of Italians here," she said, adding that there had also been increased interest among overseas buyers, particularly from the Middle East.
Earl said Jaeger sells its wares to Kuwait and Bahrain, adding that it was considering growing further in the region, though she declined to say where.
"Australia is going really well," Earl also said, citing retailer David Jones as one place where Jaeger clothes were being sold there.
INSPIRATION
Jaeger is commemorating its 125th anniversary with a collection of dresses and raincoats revived from the 1960s and 70s. It will also launch a range of home wares in March.
For autumn, chief designer Karen Boyd's clothes featured smartly tailored beige jackets with black detailing, knee-length skirts, voluminous coats with cinched waists, and glittering crystal necklaces.
"(Jaeger's) really about dressing women in a very luxurious, kind of modern way," Boyd told Reuters, as stylist and assistants bustled about, tidying up after the show. "But in a way that is accessible to lots of people."
For the show at London's Natural History Museum, models teetered down the runway in high heels, some wearing cigarette trousers and blazers with oversized shoulders, all in a palette of black, peach, and caramel.
Boyd said the main idea behind her collection was geometric prints and that the recession in Britain was not much of an inspiration.
"I don't think it's a good creative tool," Boyd said. "We're obviously aware of prices and costs, but I think it can't be at the forefront of your mind when you're designing."
(Reporting by Catherine Bosley; Editing by Paul Casciato)
© Thomson Reuters 2023 All rights reserved.