Retailer Woolworths reborn online
By Rhys Jones
LONDON (Reuters) - Woolworths, the 100-year-old sweets-to-DVD retailer that collapsed earlier this year, will on Thursday 25 June be revived as an online business by the country's biggest home shopping retailer, Shop Direct, which bought the brand name in February.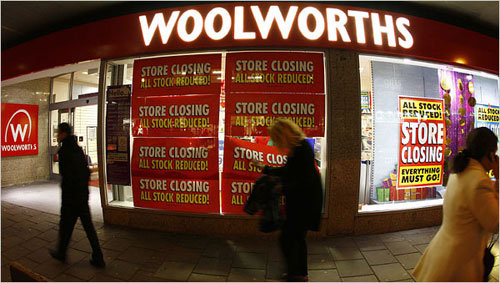 Photo: Andrew Parsons/Reuters
Woolworths.co.uk will feature a main shop selling children's toys and clothing, an entertainment store, which sells video games, DVDs and CDs, as well as a party goods outlet selling fancy dress costumes, games and the iconic "pic n'mix" sweets, now known as "click n' mix."
"There has been a vacuum created by Woolworths' disappearance, especially in the entertainment, toys and party areas," Matthew Hardcastle, the head of Woolworths told Reuters in an interview after the launch of the site.
"This venture is firmly focussed on the family and will enable people to find everything under one roof but because it is now online we'll be able to sell bulkier things and more products than you could get in a bricks and mortar store."
The online store, which will sell over half a million products, will initially have separate checkouts for the main shop, entertainment and party stores. This will become one integrated checkout by the autumn.
Shop Direct, which operates under brands such as Littlewoods and Kays and is owned by entrepreneurial brothers David and Frederick Barclay, also bought Woolworths' Ladybird childrenswear brand.
Woolworths.co.uk has re-launched Ladybird for children between 0 and 8 years old and plans to introduce clothing, footwear and sportswear for older children in the coming months.
Shop Direct Group Chief Executive Mark Newton-Jones told reporters that Woolworths.co.uk would make a profit in its first full-year of operation but would not make any specific forecasts.
Woolworths.co.uk hopes to pose a challenge to pure-play online retailers -- such as Amazon.com in entertainment -- and act as a brand-neutral home for the maximum number of products.
"People tend to have about half a dozen websites they go to regularly and we want to be one of those destination sites' for families," said Hardcastle.
Pioneers of the online retail scene, like British Internet fashion retailer ASOS and Italy's YOOX Group, are currently enjoying sales growth of up to 100 percent.
Britain's John Lewis and Debenhams are also reporting strong online sales while British supermarket giant Tesco is set to launch a Website this autumn to sell its own-brand clothes.
"We don't have to create awareness about Woolworths because it's a well known brand, which is a good starting point. We're using different channels such as facebook, twitter, and blogs to promote the online store and we think that will generate interest in the new Woolworths," said Hardcastle.
Woolworths' retail business, which sold an eclectic mix of homewares, snacks, clothes and DVDs, went into administration, a form of creditor protection, last November. It closed the last of its 800-plus stores, with the loss of around 27,000 jobs, in January after failing to find a buyer.
Woolworths, which was the first big name business in the UK to fail after the economy soured, had been struggling for years amid competition from supermarkets and the internet.
(Editing by Jon Loades-Carter)
© Thomson Reuters 2023 All rights reserved.