Retailers eye M&A, emerging markets to spur growth
(Reuters) - Retailers in the United States and Europe must consolidate and invest in emerging markets and innovation or risk stagnating in an environment where domestic demand will remain subdued for years, industry leaders said.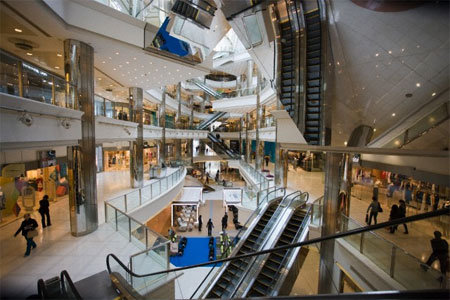 Shopping Mall, Shanghai
Executives and economists at the World Retail Congress said the United States and most European countries were likely to avoid a slide back into recession, helped by a pick up in global trade that is being driven by demand from emerging markets like China.
However, they warned that for the foreseeable future, domestic demand would not return to the boom years of earlier this century, pointing out unemployment was set to remain high as governments seek to pay back the mountain of debt spent on easing the effects of the recession.
That will make for tough decisions in the U.S. and European retail industries, which have grown fat during the good times.
"The retail industry has grown too rapidly and has increased capacity far more than demand over the last decade and now we're left with too many stores, too many retailers and certainly too many shopping centres," Ira Kalish, director of global research at consultants
Deloitte
, said of the U.S. retail industry, adding he saw a similar picture in many European markets.
"We're going to have a shaking-out, a consolidation that will come about through both merger and acquisition activity as well as through bankruptcy."
With U.S. companies sitting on record cash piles and interest rates set to remain low, the ingredients are in place for a pick up in takeover deals, while store groups should also look to extend their presence in faster-growing emerging markets like India, Brazil and Russia as well as China, Kalish said.
TAKING RISKS
Retail history is littered with examples of failed international expansion, as store groups that have prospered in one country fail to adapt to different tastes and cultures.
However
Stuart Rose
, chairman of bellwether British retailer
Marks & Spencer
(MKS.L), said the industry now had the powerful tool of the Internet to try out new markets at little cost.
"It's the advance guard (for overseas expansion)," Rose said.
British budget clothing retailer
New Look
is already using the strategy, while also looking for acquisition opportunities, company Chief Executive Carl McPhail told Reuters.
In recent weeks, New Look, which has stores in 13 countries, has ramped up the number of markets it can serve online to 122 from 33. It also plans to launch local websites in France, Germany and the United States.
In the current subdued consumer environment, retailers need to resist the temptation to focus solely on cutting costs, said Mindy Grossman, chief executive of U.S. teleshopping and e-commerce group HSN Inc (HSNI.O).
"That's not going to get us anywhere," she said, arguing that tougher times made it more important for firms to invest in new products and new ways of appealing to shoppers.
"We have so many opportunities to reach the customer, whether it's in a physical environment, on television, online, mobile, social (network sites). There is more access than at any given point in history -- we just have to do it in a way that makes them excited and makes them want to engage."
(Editing by Karen Foster)
© Thomson Reuters 2023 All rights reserved.