Retailers see economy staying tough for shoppers
June 29 - High gasoline and food prices and a slow recovery in jobs will continue to weigh on consumers this year, except for those that buy $98 yoga pants and $400 baseball bats, retailers and manufacturers said this week.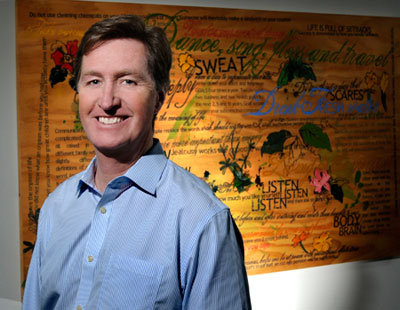 John Currie, Lululemon's Chief Financial Officer
U.S. consumer spending was flat for the first time in 10 months in May and consumer confidence fell in June.
The data came as no surprise to executives who spoke this week at the Reuters Consumer and Retail Summit, most of whom said their customer is still under pressure two years after the U.S. recession officially ended.
"I think that there are many families today who are fighting to live within their means right now and protect their quality of living," said John Barbour, chief executive officer of educational toy maker LeapFrog Enterprises Inc.
Another shock is coming, as soaring cotton prices show up in clothes in the important back-to-school and holiday shopping seasons.
Children's Place Retail Stores Inc CEO Jane Elfers said the store is raising prices $1 to $2 per item on some of its children's clothing, a noticeable increase on items that may be around $10 for a parent whose dual-income household brings in an average of $70,000 a year.
Rising costs for food and gasoline are already causing that consumer to make hard choices over what to buy.
"When the real apparel inflation hits in back-to-school and into holiday, she is going to have to be further pressed to make those choices," Elfers said.
"When you take gas and food and clothes together, three months from now, she might be feeling worse," she said.
Any downturn in consumer morale shows up quickly in economic data, as consumer spending represents about 70 percent of U.S. economic activity.
"When you see mini-shocks, gas spiking, credit restraints that frankly affect-lower income consumers, middle-income consumers more than high income-consumers, you see that flow through into the numbers very quickly," said Kenneth Berliner, president of investment bank Peter J. Solomon.
Those shocks on the lower or middle end are not creating even a faint buzz further up the economic scale.
Lululemon Athletica Inc, known for its yoga pants that cost around $100, is not seeing a hit from economic issues, executives said.
"People still buy Starbucks, and who would have thought that you'd buy a $4 latte? I think there is a ... it's a unique niche," said John Currie, Lululemon's chief financial officer.
Jarden Corp is also seeing consumers willing to spend for more expensive items, such as $400 carbon fiber baseball bats.
"The people who are buying our products aren't worried about losing their job, where two years ago, they were worried about losing their jobs," CEO James Lillie said.
HIGH-LOW SPLIT
Those higher-end shoppers are likely to contribute the bulk of sales growth this holiday season, solidifying the bifurcated consumer environment where the low end is still struggling, analysts said.
"I think a disproportionate share will come from upper-income householders who are seeing real gains in income. The real problem for the economy is with low- and middle-income householders," said Ira Kalish, director of economics and consumer business at Deloitte.
In Europe, the consumer is worse off, with economies contracting even as inflation rises and with the Greek debt crisis hanging over the continent.
"I would expect to see a very difficult environment for retailers in Europe over the next 1-2 years and even beyond that I'm not sure we're going to see a whole lot of health," Kalish said.
Consumers in Britain are in recession, the CFO of Asda, the British arm of U.S. retailer Wal-Mart, said.
"Do I expect it to improve any time soon? No, I do not," Judith McKenna said.

(Additional reporting by Mark Potter and James Davey in London, Nivedita Bhattacharjee in Bangalore and Phil Wahba, Jessica Wohl, Alistair Barr, Jessica Hall, Dhanya Skariachan and Martinne Geller in New York; editing by Matthew Lewis)
© Thomson Reuters 2022 All rights reserved.