Rival costume designers hope to sew up Oscar
By Gregg Kilday
LOS ANGELES (Hollywood Reporter) - Because Oscar organizers are pulling out all the stops to promote the Academy Awards on March 7, they might consider billing the costume design category as a smackdown for the "Project Runway" set.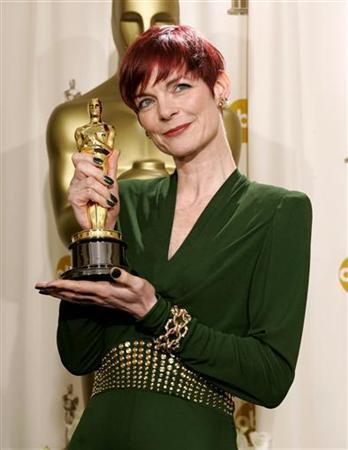 In what other race this year can you find a pair of two-time winners who have gone head-to-head on five previous occasions?
This year, they're back again -- each for an eighth time.
Sandy Powell, who took home Oscars for 1998's "Shakespeare in Love" and 2004's "The Aviator," is nominated for "The Young Victoria," in which her costumes chart the transition the young queen made from embattled princess to fledgling monarch.
Joining her once more in the nominees' circle is Colleen Atwood, nominated for outfitting some of the most iconic actresses in the world in "Nine." Atwood won Oscars for 2002's "Chicago" and 2005's "Memoirs of a Geisha."
Turns out, though, theirs is a friendly rivalry.
"We laugh about it; we're always up against each other, and we have enormous respect for each other," Powell says.
In fact, on one of the rare occasions when Atwood was nominated (for 2007's "Sweeney Todd") and Powell wasn't, Atwood dashed off a note to Powell, telling her how much she missed her on the red carpet.
One reason the two have earned so much Oscar attention, Powell theorizes, "is we're lucky. We both work with the same directors regularly."
Although Powell's nomination this year came from collaborating with Jean-Marc Vallee for the first time, she has worked most closely in recent years with Martin Scorsese. She designed the 1950s-era costumes for his current box office champ "Shutter Island" and is about to begin work on his next project, "The Invention of Hugo Cabret."
"Nine" marks the third time Atwood has worked with Rob Marshall, and she also frequently joins forces with Tim Burton -- the upcoming "Alice in Wonderland" is their latest film together.
Come Oscar Night, the two designers will be part of a group that also includes four-time nominee Janet Patterson for "Bright Star" and Oscar rookies Catherine Leterrier for "Coco Before Chanel" and Monique Prudhomme for "The Imaginarium of Doctor Parnassus."
Powell and Atwood's name recognition aside, it's a relatively equal playing field because none of the films in the category is riding the coattails of a prospective best picture winner.
Adding interest to the race is the fact that in several of the films, the costumes, far from being mere window dressing, provide a veritable subtext.
"Coco," for example, looks at the early life of fashion designer Coco Chanel, played by Audrey Tautou, subtly pointing out the influences that would later find expression in Chanel's work as a groundbreaking innovator of haute couture. The film, which harkens back to a classic like 1939's "The Women," even concludes with a full-fledged fashion show.
Similarly, in Jane Campion's "Bright Star," John Keats' love interest Fanny Brawne, played by Abbie Cornish, is herself something of a home-taught fashionista who stitches her own outfits, setting herself apart from the crowd.
Even "Nine," which swirls around Daniel Day-Lewis' film director Guido Contini, offers a shout-out to designers, with Judi Dench playing a costume designer on whom Guido leans for advice.
Although there are no obvious markers to suggest which way the Academy might lean, Powell did earn the corresponding BAFTA on Sunday 21 February. Although she had won one BAFTA, for 1998's "Velvet Goldmine," Powell had become accustomed to leaving the BAFTAs empty-handed. Nominations for "Gangs" and "Aviator" did not yield any hardware.
The BAFTA choice isn't necessarily predictive of the Academy's, though, because two of the Oscar-nominated films, "Nine" and "Parnassus," weren't included, with the BAFTA list instead filled out by "An Education" and "A Single Man."
But in a kind of dress rehearsal for the Oscars, Powell and Atwood will go up against each other Thursday (25 February) night, when the Costume Designers Guild holds its 12th annual awards at the Beverly Hilton. They are nominated in the period film category with "Coco," Ann Roth for "Julie & Julia" and Jenny Beavan for "Sherlock Holmes."
Powell, who will be flying in from London for the event, also is to receive a life time achievement award, which Atwood received in 2006.
Neither Powell nor Atwood has entered the territory of costume designer record-holder Edith Head. Hollywood's doyenne of design was nominated 35 times and won on eight occasions, including her final Oscar for 1973's "The Sting." But Powell says that with familiarity, the awards process has become easier.
"You know the ropes," she says. "And you know what's going to happen. Having said that, you still have the same emotions and buildup. It's like doing a job. You have to be so organized, have a speech, so it is quite pressured."
At least, though, these nominees don't have to turn to another designer for help. On the two evenings when Powell was called to the stage, she was wearing her own designs, "which came out of whatever I was working on at the time." This year, she expects to opt for something vintage.
© Thomson Reuters 2023 All rights reserved.