Royal dress designer to showcase at bridal event White Gallery London 2011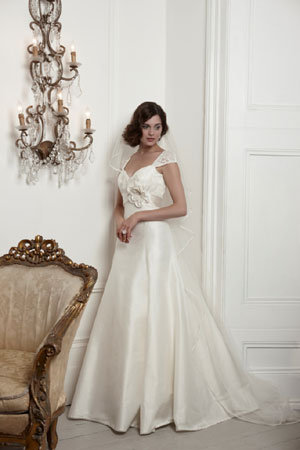 Design 'Yvette' by Sassi Holford
White Gallery London, the UK's leading bridal design fair, has announced that former royal wedding dress designer Sassi Holford is to showcase at the event at Battersea Evolution in May. Sassi Holford's designs were thrust into the limelight when Autumn Kelly chose one of her gowns for her Wedding to Peter Philips, the Queens grandson in 2008.
With the Royal Wedding now booked on April 29th 2011, the question on every fashionista's lips is what dress Kate will choose? With a firm knowledge of what a Royal wedding gown design needs, Sassi Holford comments:
"The designer of Kate Middleton's wedding gown has the difficult balancing act of producing a dress that meets the expectations of a royal wedding but also reflects the personality of a fashion conscious, intelligent, young woman. The practicalities of the occasion usually dictate that to match the size and splendour of Westminster Abbey, the gown will be full skirted with a cathedral train. Though silk would be the first choice for most designers, the particular type is important as Kate will be sitting in a state carriage for some length of time before walking up the aisle, so creasing is a big consideration."
White Gallery London 2011 is an opportunity for elegant wedding wear retailers and the international press to see the very best in bridal design. This three day trade show will be held at Battersea Park during 22-24 May 2011. Around 40 highly respected design houses will be exhibiting at White Gallery London. Names confirmed include Alan Hannah, Anoushka G, Blue Bridalwear, Gemy Couture Bridal, Halo Designs & Co, Hollywood Dreams,
Jesus Peiro
, Johanna Hehir, Katzi Jewellery, Lea-Ann Belter Bridal, Lyn Ashworth,
Matthew Williamson
, Olivia Couture, One & Only Bridalwear, Pepe Botella, Polly Edwards, Rachel Simpson, Sassi Holford, Stewart Parvin, Ugo Zaldi, Vivien Sheriff Millinery, Ritva Westenius.
White Gallery is an international trade event exclusive to buyers stocking the bridal wear and accessories collections of designer labels. All designer-led companies interested in exhibiting are asked to complete a detailed application form which is then vetted to ensure that every exhibitor meets the demanding standards and rigid criteria at the heart of White Gallery proposition.
Copyright © 2023 FashionNetwork.com All rights reserved.