Russia rich opens sleek modern art museum in Moscow
By Amie Ferris-Rotman and Catherine de Pury
MOSCOW (Reuters Life!) - Fashion designer and ex-model Daria Zhukova opened a new art gallery in an avant garde Moscow bus shelter on Tuesday, attended by her Russian billionaire boyfriend Roman Abramovich.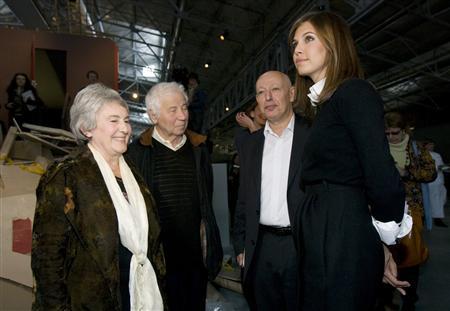 A dozen interconnected rooms with high ceilings and wooden floors form the 'Garage, Centre for Contemporary Culture', a non-profit exhibition space housing Russian art just outside Moscow's centre that will be run by Zhukova.
"It is amazing that Moscow finally has space that can combine exhibitions of contemporary art... and a place where people can come and enjoy creativity," Zhukova, who was born in 1981 in Moscow and moved to the United States as a child, told Reuters TV in an interview.
A retrospective exhibit by living married Ukrainian art duo Emilia and Ilya Kabakov is opening the gallery, which is Moscow's largest art space and bigger than a football field at 8,500 sq ft and fronted by Greek white columns.
"Historically Russia has always been a big patron of the arts, so perhaps there is a bit of a higher interest in Russia," said the American-accented Zhukova in the gallery's upmarket cafe, which is lined with Soviet-era film posters.
Zhukova said London's Tate Modern museum was a "great inspiration" for Garage, which has a large open hall with exposed piping and metallic shafts and was built by Russian architect Konstantin Melnikov in 1926-1927.
"This will definitely raise the value of the Moscow art scene," said Joseph Backstein, curator of the Kabakovs' exhibit and organizer of the second Moscow art biennale, which showcased contemporary international art last year.
The gallery's polished floors and delicately lit rooms are in sharp contrast to Moscow's multi-floored Tretyakov gallery, where masterpieces by Vasily Kandinsky and Marc Chagall are hung in rooms with little security and leaking ceilings.
"From this moment (Moscow art) looks different, it's structured differently, it sees itself differently, as does the outside world," Backstein said.
FUNDING FROM UNKNOWN SPONSORS
Oil works of Soviet government meetings and daily life are purposely marred with painted black slashes and holes, typical of the Kabakovs' work, which the artists say shows how life can go uninterrupted despite the change around it.
"I hope this will make everyone further (the art cause), because in Russia we have a tendency to not trust," 62-year old Emilia Kabakova told Reuters, adding that she and her husband have been working closely alongside Zhukova over the past year.
At the opening the pair were awarded the $140,000 Praemium Imperiale Japanese global arts prize, which is given annually to a handful of artists by the Japan Arts Association.
Ilya, who does not give interviews or talk publicly, and Emilia then posed with Zhukova, who was dressed in a black wool skirt and sweater with a white dress shirt.
Zhukova refuses to name the figure on the Garage's pricetag, but says its financing came from "private sponsorship" and later aims to self-finance through a membership program and museum services.
It is largely speculated that Abramovich, who owns London's Chelsea football club and has earned billions of dollars from commodities and oil, has financed the project.
When asked if he had sponsored Garage, Abramovich broadly smiled, smoothed out his blue suit, but did not answer.
Over the last 10 years, interest in Russian art and culture has boomed both at home and abroad as the economy prospered.
Items from Zhukova's U.S.-based fashion line Kova&T have been spotted on Hollywood stars and Russian oligarchs abroad have been using their vast fortunes to snatch up their native art.
(Reporting by Amie Ferris-Rotman and Catherine de Pury, editing by Paul Casciato)
© Thomson Reuters 2023 All rights reserved.