Say yes to the dress, but no to the fake
Christine Stachurski said yes to the dress - and then the dress turned out to be a fake.

"You get this thing in the back of your mind that says it's probably too good to be true and I should have listened to it," says Stachurski, 37, of Fontana, California.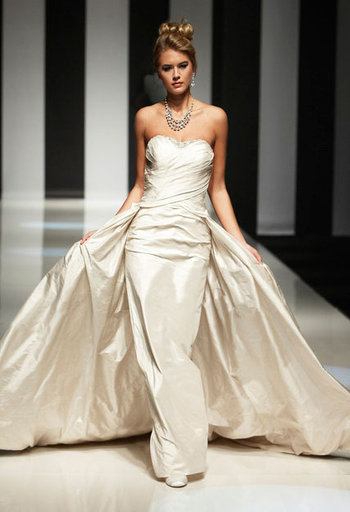 Ian Stuart at White Gallery 2011
The bride-to-be, who is getting married on Saturday, had been duped in a way that is becoming more common as consumers order discount dresses for weddings, proms and other special occasions from web sites.
The dresses don't come cheap, so it's easy to understand the drive to find a bargain. The average wedding dress cost is now $1,281, according to a survey of 13,000 brides and grooms released in March by TheKnot.com. Dresses that cost upwards of $3,000 are not unusual, and prices can go far higher.
Those who want to pay less go can go to a well-established U.S. retailer with an online presence, like David's Bridal, or sites that sell used couture, including Tradesy.com, NearlyNewlywed.com and oncewed.com. You can also go to a well-regarded local consignment shop.
But many shoppers are falling prey to counterfeiters operating through foreign-owned websites. An estimated 600,000 dresses were illegally sold in the United States last year, according to the American Bridal and Prom Industry Association, a trade group.
Stachurski and her fiance were in the bargain market because they wanted to keep their beach wedding a low-budget affair. When she found the perfect dress for $136, she felt lucky. It even arrived on time.
But once Stachurski opened the package, she found the dress was not only a wrinkled mess, but was also mis-sized, had raw edges, bunched up fabric and other obvious flaws. "As my fiance said, 'It looked like a drunken monkey put it together with a stapler.'"
After the seller, a China-based website, told her they would accept a return if she would pay the $90 shipping charge, PayPal agreed to refund the transaction. Stachurski ended up just going to the mall and buying a casual dress off the rack. An email from Reuters asking the site to comment about the issues was not answered.
Lots of tears
Stories about brides scrambling after getting a counterfeit dress are common, says Steve Lang, chief executive officer of the bridal dress company Mon Cheri Llc and president of the American Bridal and Prom Industry Association. He often hears of broken-hearted brides and prom-goers, with tales not only of missed weddings or proms, but also people who have had their identities stolen and their credit ruined.
"A dress that sells for $2,500 you can order for $195 and you expect it to be the same? Horrific differences," Lang says.
The association has been aggressively pursuing the counterfeit sites, winning a court order earlier this year that halted about 1,100 foreign-based sites and froze nearly $1 million in PayPal transactions alone, Lang says.
The problem had been accelerating at a break-neck pace, says Roanna Rose, owner of TJ Formal in Joplin, Missouri, who has been monitoring the scam sites for the association. When she first started keeping track in 2011, she had a list of about 150 suspected scam sites. The list now totals more than 7,000.
Some are particularly enterprising, Rose says. One counterfeiting site even used photos of the inside of her very own store to appear legitimate, she says.
"I had a huge online business and it dwindled down to nothing," Rose says. "I blame the counterfeiters."
© Thomson Reuters 2023 All rights reserved.