Short-sellers cast eye towards struggling UK retailers
Hedge funds hunting profits from falling share prices are circling many of Britain's biggest retailers after deep pre-Christmas discounting failed to tempt shoppers to splash the cash in the festive season.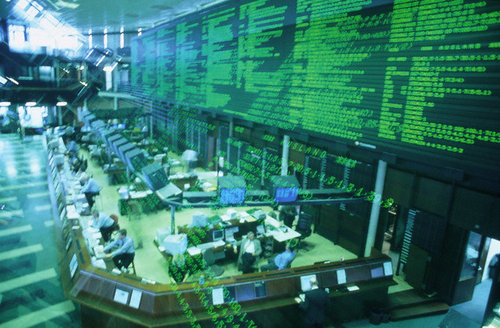 Photo: Corbis
Lacklustre festive spending is expected to blight a wave of New Year trading figures from
Marks & Spencer
(MKS.L), WHSmith (SMWH.L), Carpetright (CATVU.L),
Home Retail
Group (HOME.L) and
Mothercare
(MTC.L), who have all suffered a spike in the volumes of stock out on loan, a key indicator of short-selling interest.
Short-selling is a common way for hedge funds and other equity traders to bet on falling share prices. Short-sellers borrow stocks to sell them in the hope of scooping them up later at a lower price and pocketing the difference.
Carpetright and Home Retail Group top the sector, with over 14 percent of their total shares out on loan. Interest in the former has climbed to a record high with almost all supply out on loan, securities lending research house Data Explorers said.
As recession worries continue to haunt cash-strapped consumers, Data Explorers said retailers exposed to the gloom now account for six of the top 10 most shorted FTSE All Share stocks.
Mothercare and WH Smith have seen appetite to short their stocks rise by 8.4 percent and 13.6 percent in the last month, compared with the 3.4 percent average short interest across the sector and the 1.6 percent average across the wider FTSE All Share .FTAS index.
NEXT
Meanwhile, many of the hedge funds who had covered short positions on Next (NXT.L) since November following a period of steady share price performance and bold marketing may now be counting the costs of such hasty moves.
Shares in Britain's No. 2 clothing retailer, which has outperformed a competitive retail pack in recent years, dropped more than 4 percent on Wednesday after it cautioned that sales and profit growth would only be modest in its 2012-2013 financial year.
Only 4 percent of Next shares are now out on loan compared with June last year when short interest peaked at over 10 percent of the total shares.
Marks & Spencer is due to release details of its Christmas sales on Tuesday but some hedge funds expect the bellwether blue chip will fail to impress, with 5 percent of its total shares out on loan and short interest up a fifth over the past month.
Online grocer Ocado (OCDO.L), which rocked investors with a profit warning last month, remains firmly in the sights of short-sellers with 9 percent of the total shares out on loan.
The retailer admitted on Dec 19 that its full-year earnings would be hit by a higher wage bill as it recruited more staff to maintain customer service standards while its main distribution hub was being expanded.
The 9 percent of shares on loan represents over two thirds of the stock that can be borrowed, as the share price has fallen to annual lows.
Fellow cyber-seller ASOS (ASOS.L), which broker Seymour Pierce tipped to be among the losers for the latter months of 2011 , has seen the volume of its stock on loan jump by 1.4 percent to 3.2 percent over the past week as a handful of funds bet economic chills may hit its young customer base hard.
By Sinead Cruise
(Editing by Jodie Ginsberg)
© Thomson Reuters 2022 All rights reserved.