Shy North Korea seeks modest investors
By Jonathan Thatcher
SEOUL (Reuters) - As North Korea's leadership tip-toes out of international quarantine, few believe the world's only communist dynasty is also ready to risk its grip on power by letting foreign investors -- and foreign ideas -- rush in.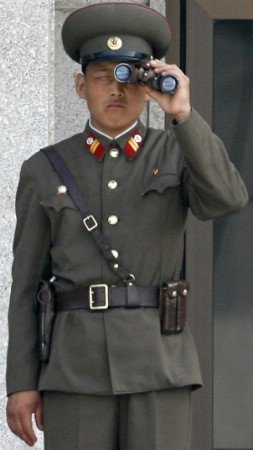 But those promoting business with the impoverished North say the sudden drop in tensions with the rest of the world has meant a jump in interest from investors with a mind to try their luck in one of the most secretive societies on earth.
This month, the United States suggested giving aid to, and even holding a summit with, the leader of a government it once lumped with Iran and pre-invasion Iraq as members of an evil trio, provided that Pyongyang gives up its nuclear arsenal.
Next month, the two Koreas hold only their second summit.
It is a far cry from the economic and political clamp put on North Korea after its first nuclear test almost a year ago.
"There's a lot of renewed interest," said Kelvin Chia who heads a Singapore-based law firm that looks at North Korea.
"It'll take time to take off ... (but) they are hungry for foreign investment."
Even the most avid promoters admit the opportunities in the hermit state are limited and mostly revolve around exports that can exploit cheap labour, cheap land and mineral deposits.
North Korea's official media too have turned cheerleader for lifting an economy dragged down by government policies, famine and heavy spending on one of the world's largest standing armies at more than 1 million -- mostly near the border with the South.
"Nothing is more important for the DPRK (North Korea) than building an economic power," the Rodong Sinmun newspaper wrote.
A recent report by the South Korean central bank showed that the North's economy -- once stronger than its southern neighbour's -- is feebler than it was 20 years ago, managing to miss out entirely on the economic boom in the rest of East Asia.
This summer's heavy flooding ravaged crops, only adding to the country's woes and, say analysts, making North Korea all the more desperate for help.
MORE FINANCIAL HELP
At next month's summit, North Korean leader Kim Jong-il is expected to press for more financial help from his neighbour, now Asia's fourth largest economy, especially in resurrecting its threadbare infrastructure.
And many analysts expect Seoul to be generous without asking for much in return, preferring the Pyongyang leadership's survival to the likely calamitous impact of its collapse.
The lack of well-run ports, transport and other basic services will remain a major barrier to investors.
Paul French, director of Shanghai-based market research firm Access Asia, said much of the industry that once made North Korea a modest economic power in the region has been sold off.
"If you go to the border all you see is lorry after lorry with scrap metal or lumber ... they are cutting down trees and stripping factories."
But there was some growth in light industry, he said: "cigarette lighters, teaspoons and things like that."
He estimated that around 150 Chinese joint ventures had set up in North Korea, some of them, illicitly, as sub-contractors for work on well-known international textile brands.
And South Korea runs a slowly expanding industrial park just inside the North, which assembles watches and makes clothes.
ELITE ACT AS BARRIER
It is the North Korean elite which some analysts say is the biggest hurdle to raising up the economy, terrified they could be overthrown if a society so meticulously protected from the outside world is exposed to sudden foreign influence.
"North Korea will consider small-scale opening but it will retreat at the first sign of problems," said Andrei Lankov, North Korea analyst and professor at Seoul's Kookmin University.
The 65-year-old Kim, whose father became the country's eternal president after his death in 1994, remains obsessed with the collapse of communist East Europe at the end of the 1980s, blaming it in part on rushed reforms, said Kim Sung-han, a professor at Korea University.
"It will be hard for him to make a strategic decision to open up unless he is confident about stability."
The fear of losing power, or his life, means Kim Jong-il is unlikely to offer much change, several analysts said.
EXILE HASN'T SAME APPEAL
"After you've been God, even in a crummy little country, (exile in) a villa in China doesn't have the same appeal," said Marcus Noland, analyst with the Washington-based Peterson Institute think tank.
But Noland said that since much of the North's weapons and other illicit trade had fallen on hard times in the face of tight restrictions it is learning that cooperation can pay.
And the rise of domestic markets, despite the failure of government economic reforms earlier in the decade, was a sign that society was changing even if the authorities were unenthusiastic.
"The socialist system has collapsed already. Most people are engaged in black markets," said Suh Jae-jean, analyst at the Korea Institute for National Unification.
The North also has considerable strategic allure that would give South Korea land links, lost when the peninsula was divided after World War Two, to the rest of the Asian continent and onwards to Europe.
For China too, analysts said, it would be useful to have an open and vibrant North Korea so close to its own landlocked northeastern provinces.
Roger Barrett, head of Beijing-based Korea Business Consultants whose interests in the North include a gold mining joint venture, said though it could be a frustrating place, it was a near-virgin market that offered a lot of opportunities.
"It's more normal than people think."
© Thomson Reuters 2023 All rights reserved.