Skepticism greets General Growth plan
By Paritosh Bansal and Ilaina Jonas
NEW YORK, Feb 25 (Reuters) - General Growth Properties Inc's (GGWPQ.PK) plan to exit bankruptcy is drawing skepticism from some unsecured creditors, who worry that it might not work and that Simon Property Group Inc (SPG.N) could lose interest in a rival bid, a source close to creditors said on Thursday 25 February.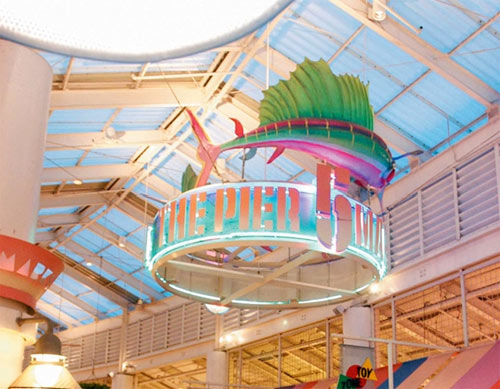 Bayside Marketplace in Miami, Florida - A General Growth Properties Inc mall - Photo: www.baysidemarketplace.com
"It is not as attractive as described by the debtors. There is a lot of conditionality built into it," said the source, declining to be named because the talks are not public.
The conditions include issues like the terms under which Brookfield Asset Management Inc (BAMa.TO) would fund General Growth's exit, the source said.
"The execution risks from that bid are far higher than the execution risk on the Simon side, so it leaves more question marks as to how that bid will ultimately be valued by all the stakeholders," Green Street Advisors senior analyst Cedrik Lachance said. "The unsecured creditors are not guaranteed to be paid in cash here, so they will want to assess the value in what they will receive or what they might receive."
Simon, which values its offer at $10 billion, does not see the Brookfield-backed proposal as competitive, a second source familiar with the situation said.
Simon, which has signed a non-disclosure agreement with General Growth, is anxious to complete its confirmatory diligence and hopes to get information as soon as possible, the source said, declining to be named because these talks are not public.
In addition to its own financial resources, Simon expects to have certain institutional investors and sovereign wealth funds as its partners, the source said.
Under General Growth's plan, Brookfield would get seven-year warrants to purchase 60 million of the company's shares at an exercise price of $15 per share.
Simon believes these warrants could be worth $280 million to $400 million, which amounts to a high up-front fee on a $2.625 billion funding commitment, especially when the Canadian firm can walk away from it, the source said.
A General Growth spokesman said the company's proposal is designed to maximize value for all stakeholders and clear the path for a restructured company to emerge from bankruptcy with a diverse portfolio of income-producing assets, strong cash flow and a solid balance sheet capitalized with long-term non-recourse debt.
Besides Simon, Australia's Westfield Group (WDC.AX) has also signed a non-disclosure agreement with General Growth.
"The fact that multiple parties have joined the process of restructuring is a sign that the process we mapped out is working successfully," the spokesman said in an e-mail.
General Growth, which filed for bankruptcy protection in April, owns more than 200 malls, including such properties as Fashion Show in Las Vegas, Ala Moana Center in Hawaii and Faneuil Hall Marketplace in Boston.
UNSECURED CREDITORS
Unsecured creditors, who hold about $7 billion of General Growth's debt, are crucial to the second-largest U.S. mall owner's successful exit from bankruptcy.
Under Simon's offer, they would be paid in full in cash. Under General Growth's plan, which is backed by Brookfield, the form of their recovery is not yet certain.
General Growth's plan would split the company in two and pay stockholders $15 per share overall, with a new company that holds income-producing malls valued at $10 per share.
It also envisions raising up to $5.8 billion to repay unsecured creditors in cash. Without this additional capital, unsecured creditors would stand to be paid in stock and cash.
A part of the additional capital General Growth would raise would come from selling equity in public markets in the new company.
If the company were not able to sell the shares, then the unsecured creditors would get stock that the market values below $10 per share, a third source familiar with the situation said.
If the capital raise is successful, however, the creditors would get cash and lose out on the benefit of getting an upside from owning the stock, the source said, who also declined to be named because these talks are not public.
Some unsecured creditors also fear that General Growth's process to exit bankruptcy could raise the stock price too much, and then they would be forced to take stock in exchange for their claims at a higher value than they want, the first source said.
A lawyer for the creditors committee was not available for comment.
The General Growth plan is devised to get the most out of Simon, said David Fick, a managing director at Stifel Nicolaus.
"It's all a matter of getting the highest bid for the residual, which are the equity holders and that's what they're doing here," Fick said.
General Growth stock closed up 1.2 percent at $12.04, Simon was up 1.3 percent at $78.51 and Brookfield closed up 3 percent at C$24.77. (The case is In re: General Growth Properties, U.S. Bankruptcy Court, Southern Distric of New York, No. 09-11977.) (Reporting by Paritosh Bansal and Ilaina Jonas, editing by Gerald E. McCormick and Steve Orlofsky) (For more M&A news and our DealZone blog, go to www.reuters.com/deals)
© Thomson Reuters 2023 All rights reserved.