Slim chance of Mr Tod's taking over Saks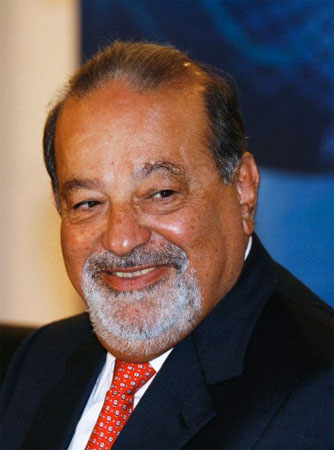 Mexican Carlos Slim is the richest man in the world. March 2010.
(Reuters) - When Italian businessman
Diego Della Valle
overtook Mexican billionaire
Carlos Slim
as top shareholder in U.S. retailer
Saks
(SKS.N) last week, markets jumped on speculation of a possible takeover bid.
But the man who turned Tod's (TOD.MI) from a family shoe factory into the world's fourth biggest shoemaker by market value, is more likely to do what he knows well -- rake in lucrative returns from selling to the highest bidder.
Della Valle, one of Italy's most powerful industrialists, is also a keen investor, with interests from French luxury giant
LVMH
(LVMH.PA) to Vespa scooter maker Piaggio (PIA.MI) and eyewear maker Marcolin (MCL.MI).
He also has interests in banks and soccer.
"A bid by Della Valle for 100 percent of Saks is highly unlikely," an Italian banker close to Della Valle told Reuters on conditions of anonymity. "If he can make a double-digit profit by selling his stake, he will sell," he said.
In less than two years, Della Valle has splurged more than $170 million to acquire a 19.05 percent stake in Saks, his second biggest holding after Tod's.
The size of the investment has prompted questions over whether Della Valle aims at enhancing Tod's or his stock portfolio.
"Della Valle has strategic holdings only in niche companies, such as Marcolin," a Milan-based luxury analyst said, asking not to be named. "When someone makes such a big investment, it is for making capital gains," he said.
Asked about his plans, Della Valle said last week Saks was a "great opportunity," declining to give detail.
"I bet Della Valle will try to sell his stake in 12 months, if Slim lets him do it," the analyst said. "Slim is in the best position to make an offer and might want to regain his status."
Saks has become a target of takeover talk since last year when it removed a so-called poison pill aimed at averting a potential hostile bid by Slim.
"I think they view (Della Valle) as friendly because he is a vendor," said Paul Swinand, Chicago-based Morningstar's analyst.
Slim last reported a higher stake in February, when he had 25.6 million shares. He owns 15.9 percent of Saks, according to Reuters data.
LITTLE MECCA

Tod's, which includes the
Fay
,
Hogan
, and
Roger Vivier
brands, was seen as too small in the United States to justify a major investment there. The U.S. market accounted for around 7 percent of first-half revenue of 377.5 million euros for Tod's.
"I do not expect Tod's to grow fivefold in the short term in the U.S.," Centrobanca analyst Simone Ragazzi told Reuters.
Whatever Della Valle plans are, they will have to suit Saks.
The Italian has raised the possibility of expanding Saks internationally, but Saks's chief executive Steve Sadove has repeatedly said the retailer would focus on domestic growth.
"(Saks) is a little mecca which everyone visits," Milton Pedraza, chief executive of consulting firm Luxury Institute, told Reuters. "Della Valle looks at Saks and sees a global brand," he said.
The company, which operates 48 full line stores and 56 Off 5th outlets, has closed seven stores this year, saying it wanted to focus on its best-performing locations.
Saks shares have been on a tear in recent weeks, at first buoyed by speculation it could be a takeover target by a group of British private equity firms, and then by the spectre of a fight between Della Valle and Slim.
But last month, JP Morgan analyst Charles Grom lowered his price target on the stock to $8, saying luxury spending remained uncertain.
Saks, expected to eke out a small profit for its 2011 fiscal year after two years of losses, has a price-earnings ratio of 54.8 based on 2012 profit forecasts and a stock price of $10.96.
Rival U.S. department store chains
Nordstrom
(JWN.N) and
Macy's
have price-earnings valuations of 12.6 and 10.3 respectively.
(Reporting by Antonella Ciancio and Phil Wahba; Writing by Antonella Ciancio; Editing by Dan Lalor)
© Thomson Reuters 2023 All rights reserved.