Social gifting: the new buzzword in e-commerce
Last year, the buzzword in e-commerce was Groupon Inc and its myriad of competitors that offered daily online coupons to entice shoppers in a down economy. Now, the latest fashion in retail is social gifting, where people get together on Facebook to buy each other gifts.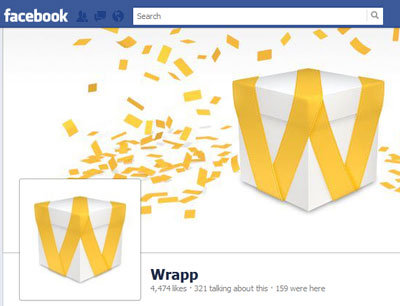 Wrapp's Facebook platform
Start-ups such as Sweden-based Wrapp, which is launching its U.S. business on Monday, are getting millions of dollars in venture-capital funding, and retailers like Best Buy Co Inc,
Gap
Inc and Starbucks Corp are scurrying to be a part of it.
"Brick-and-mortar retailers are all looking for new, more efficient ways to drive sales into stores without diluting their brands ... we wanted to really see how retailers can leverage the megatrends of smartphones and social networks," said Hjalmar Winbladh, chief executive of Wrapp.
Wrapp is essentially an app that can run on smartphones, tablets and computers. It allows Facebook friends to buy each other gift cards from participating retailers either individually or by teaming up, which they can store on their mobile devices and redeem either online or inside physical stores. Retailers like it because there is little marketing cost and because customers often end up buying more once they are inside the store.
Since mid-November more than 165,000 active users have given over 1.4 million gift cards that can be redeemed in some 50 major retail stores across Europe, according to Wrapp.
"The thing that struck me as unique and interesting about Wrapp is that it is kind of the intersection of three trends: gift cards, social networks and mobile (shopping)," said Reid Hoffman, a cofounder of LinkedIn and a partner at Silicon Valley venture-capital firm Greylock Partners.
Wrapp has received $10.5 million in funding from Greylock and technology VC firm Atomico. Hoffman serves on Wrapp's board, as does Skype co-founder and Atomico founder Niklas Zennström.
In the United States, the Swedish company has tied up with retailers including H & M Hennes & Mauritz AB, Gap Inc,
Sephora
and Fab.
E-gifting - or people buying gift cards from a retailer's website - is still in its infancy, accounting for only $1 billion of the $100 billion gift card industry last year, according to Brian Riley, senior research director at CEB TowerGroup. Of that $1 billion, social gifting made up only about 5 percent or $50 million.
Technology is naturally progressing toward platforms like social gifting, said one industry player. "E-commerce platforms are becoming inherently more social with the inclusion of comments, recommendations and purchase history from each person's social graph," said Randy Glein, managing director at venture capital firm DFJ Growth.
THE RETAIL LINEUP
Starbucks expects social gifting to make up about 20 percent of its gifting business in the near future.
"Customers can connect from our site to their registered Facebook account to view upcoming birthdays of Facebook friends, send them e-gifts directly, and share the news on their Facebook wall," said Alexandra Wheeler, vice president of global digital marketing at Starbucks.
Bridget Dolan, vice president of interactive media at Sephora, said conversion rates - measuring the amount of customers who actually come to stores to redeem the vouchers - are likely to spike on holidays like Valentine's Day, Mother's Day, and just before Christmas.
This optimism has a host of startups like CashStar, SocialGift, Groupcard Apps and DropGifts rushing in to be the early birds in the sector.
CashStar, for example, works with more than 200 retailers for their e-gifting businesses, and has seen sales grow 463 percent in the latest quarter. Nearly 10 percent of CashStar's retailer network uses social gifting, CashStar Chief Executive David Stone said.
"Facebook commerce is still very nascent; it is a small, small world. Within that, social gifting is one area where we can potentially build sales," Stone said.
While there are high hopes for the future of social gifting, it may be appropriate to remember last year's darling, Groupon.
As a private company, Groupon was one of the fastest-growing businesses in history and in November pulled off one of the largest Internet IPOs of the past decade, valuing the company at well over $10 billion. But since the stock market debut, the shares have fallen around 40 percent on concern about the sustainability of that growth and the company's accounting.
WHAT'S IN IT FOR THEM?
Retailers view social gifting as an opportunity to reach out to their target buyers and promote their brands at almost no extra cost.
Wrapp, for instance, charges retailers nothing until a transaction is made. It bets on the premise that most shoppers will end up spending more than the gift card's value once they are in the store.
"As marketers, we want to be where the consumers are, and they are all on Facebook," said Bradford Robinson, gift card manager for Chili's Grill & Bar.
Wrapp, which works with companies like home improvement chain Clas Ohlson and Dixons Retail-owned consumer electronics chain Elgiganten in Europe, said users reportedly spent 5.2 times the value of the gift card when they came to claim their gifts.
"I have no doubts that because of the FB platform, these things can grow very quickly and get a lot of users in a short period of time," said Sucharita Mulpuru, an analyst with Forrester Research.
But she also has a word of caution.
"It is new, and there is a lot that remains to be seen. It could be a very powerful form of marketing (and) drive incremental value. But the challenge is that there is a promise and there is a reality ... you can't just introduce a platform like this and expect it to deliver gold to everybody," she said.
© Thomson Reuters 2023 All rights reserved.