Spain's retail sales sink again in Jan, pace slows
By Andrew Hay and Manuel Maria Ruiz
MADRID, March 18 (Reuters) - Spanish retail sales plummeted by a calendar-adjusted 5.4 percent in January compared to a year earlier, the 14th straight month of falls, although the pace of contraction slackened from the previous month.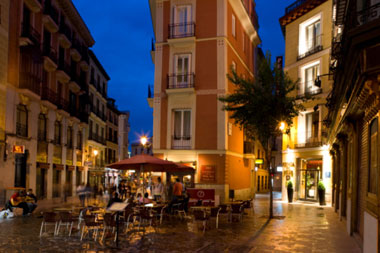 Street near Plaza Mayor, Madrid
What was still a steep fall came on top of a 2.4 percent decline in retail sales in January 2008 compared to the previous year, so this January's level of sales was about 8 percent lower than in the same month of 2007, in a sign of the depth of Spain's economic misery.
"January is traditionally the month when you get all the discounting on the high street," said Jose Garcia Zarate of 4Cast in London.
"So the fact that sales keep on falling means that even with price discounting the retailers are not being able to attract as many shoppers as last year, which makes sense when you think of all the unemployment. Its an indication of a very, very awful first quarter," he said.
Unemployment has more than doubled from its low point in 2007 to around 15 percent. Spain spent the second half of 2008 in recession following the collapse of the debt-fuelled construction boom which fed a decade of rapid growth, during which its current account deficit reached 10 percent of gross domestic product.
Jose Luis Martinez of Citigroup drew some comfort from the slower pace of decline in sales compared to December, when they contracted by 6.1 percent. January's fall was not as deep as in November last year, when the rate of decline touched a record 8 percent.
"We can call this figure very bad compared to extremely bad the previous month," Martinez said, before pointing to evidence that some economic trends are actually getting worse.
"I'm worried about the accelerating decline in sales of household goods," he said.
Sales of domestic appliances and other goods to outfit homes retreated 20 percent in January, compared to a decline of 15.6 percent in December, shadowing plummeting data for house sales released earlier this week.
While, overall, Spanish shops sold much less than a year earlier, there were signs that the biggest competitors, many of which have discounted heavily, were faring better in a retail environment increasingly scarred by boarded-up small stores.
Sales by large stores actually increased by 1.6 percent in non-calendar-adjusted terms, although in calendar-adjusted terms they declined by 1 percent.
Shares in Spain's biggest listed retailer, Inditex (ITX.MC), which owns the Zara discount fashion chain, rose after the retail sales data, up 2.7 percent at 27.29 euros by 0859 compared to a 1.55 percent rise in the leading share Ibex index .IBEX. A Reuters poll of analysts showed on Monday that Inditex was set to see its yearly net profit fall for the first time since 2001, but only by 1.4 percent. (Reporting by Andrew Hay and Manuel Maria Ruiz; writing by Jason Webb; Editing by Toby Chopra)
© Thomson Reuters 2023 All rights reserved.