Specialty apparel retailers eye steady holiday sales
BANGALORE | Thu Nov 18, 2010 - U.S. specialty apparel companies, which have battled erratic demand and rising costs, forecast a steady holiday season.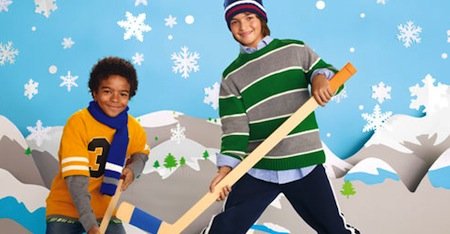 childrensplace.com
Children's Place
Retail Stores Inc (PLCE.O) and Casual Male Retail Group (CMRG.O) predicted full-year profits mostly above market estimates.
With a back-to-school boost behind them, and as customers start their holiday shopping, retailers are more aware of the importance of deft discount management and getting the right merchandise mix at their stores.
"Third-quarter sales and profits for The Children's Place were impacted by poorly performing fashion in the back-to-school line as well as unseasonably warm temperatures," Chief Executive Jane Elfers said in a statement.
However, the company beat profit estimates for the quarter.
"While short-term market conditions remain challenging for our business, we are making significant progress on our longer-term growth initiatives which we believe will lead to enhanced sales and profitability in 2011 and beyond," Elfers said.
For Casual Male, which sells big & tall men's clothing and accessories, controlled discounts saw third-quarter gross margins rise 300 basis points. It also enjoyed a boost from its new store concept, Destination XL.
Destination XL's format is closer to a department store and is about three times the size of a Casual Male store. The stores also have a sleeker look, in part to appeal to female shoppers, who account for a third of sales.
Kearney, Nebraska-based The
Buckle
Inc (BKE.N) also beat Wall Street estimates as third-party brands
Guess
, Silver Jeans, Hurley and
Fossil
remained popular with teens.
However, analysts have been concerned about how the company will sustain a strong run, saying rising costs of cotton, freight and skilled labor are likely to pressure margins, especially if cost increases are not passed on to shoppers.
Buckle shares were up almost 8 percent at $37.82 on Thursday before markets opened.
By Nivedita Bhattacharjee
(Reporting by Nivedita Bhattacharjee in Bangalore)
© Thomson Reuters 2023 All rights reserved.