Sports Direct earnings up 7.4 percent
LONDON (Reuters) - The country's biggest sporting goods retailer Sports Direct posted a better-than-expected 7.4 percent increase in first-half underlying earnings and said it was on track to meet market expectations for the full-year.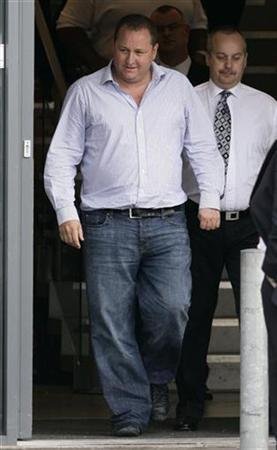 "With the economic situation and trading environment likely to remain extremely difficult, our back to basics strategy is working for us," said Chief Executive Dave Forsey.
"The board remains comfortable with underlying EBITDA (earnings before interest, tax, depreciation and amortisation) expectations of 135 million pounds ($210.2 million) for the full year to end-April 2009," he added.
But the company, 71 percent-owned by Newcastle United soccer club owner Mike Ashley, cut its interim dividend payout by 41 percent to 1.22 pence.
The group said it made underlying EBITDA of 89.8 million pounds for the 26 weeks to October 26.
This compares to analyst forecasts of about 82 million pounds and 83.6 million pounds in the same period last year.
The group said it benefited from better relationships with third party brands, supply chain efficiencies and tight control of costs and stocks.
Reported pretax profit increased 361 percent to 97.7 million pounds, reflecting a 45.4 million pounds foreign exchange gain.
Sports Direct, which owns Sports World and Lillywhites stores as well as brands such as Slazenger, Lonsdale and Dunlop, said group revenue increased 2.9 percent to 687.7 million pounds. Its profit margin increased 10 basis points to 43.4 percent.
The group ended the period with net debt of 478.3 million pounds.
Many retailers are struggling as cash-strapped shoppers, hit by sliding house prices, soaring unemployment and growing financial uncertainty rein-in spending.
Sports Direct has had a torrid time since floating at 300 pence in February 2007.
The group has issued three profit warnings, its share price has lost 62 percent of its value, and it is still without a permanent chairman 18 months after David Richardson quit, having decided he could not work with Ashley, who made 929 million pounds from the float.
In October Sports Direct purchased a 5 percent stake in struggling rival JJB Sports and disclosed a further 16 percent interest in the group held through contracts for difference (CFDs).
The group also holds stakes in rivals JD Sports Fashion and Blacks Leisure Group .
Shares in Sports Direct were up 2.10 percent at 37.50 pence in early trading on Wednesday.
(Reporting by James Davey; Editing by Hans Peters)
By James Davey
© Thomson Reuters 2023 All rights reserved.